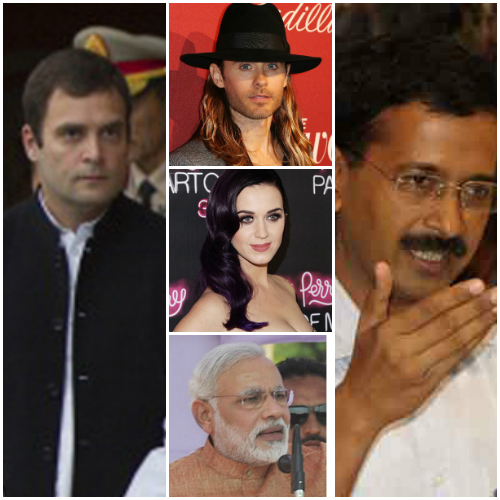 TIME magazine's curated lists are usually a symbol of power-play when a leader or an entertainment artist is featured in the list. As the world's largest democracy votes in the ongoing elections, the key candidates obviously have made an impact internationally.
Narendra Modi, who is already being hailed as the leader at the helm of affairs by Goldman Sachs and other agencies, was expected to be the top candidate from India on TIME magazine's list. But Aam Aadmi Party (AAP) leader Arvind Kejriwal has managed to edge past the BJP's prime ministerial candidate by a small margin.
Kejriwal has edged past international icons such as Malala Yousafzai, Katy Perry, Lady Gaga, Jared Leto, Vladimir Putin, Janet Yellen, and Michael Bloomberg among others. Narendra Modi, who has gained much prominence of late, has secured the third post. According to TIME, Modi may clamour past pop star Katy Perry to the second spot and give Kejriwal a run for his money.
In an outline, the article explains the popularity of India's marathon elections, which have become a topic of hot debate internationally. While Narendra Modi's polarising image has been debated upon, Arvind Kejriwal's anti-corruption stance has been surging upwards with India against corruption (IAC) and the AAP's winning streak in assembly elections from Delhi.
According to the article, "The power of Modi's polarisation was on also display in the poll, which is not, for the record, any reflection of how voting is going in India. As of Monday evening, about 213,000 people had cast a "yes" or "no" vote for Arvind Kejriwal, while more than 431,000 had voted online for Modi. Modi had a greater percentage of "no" votes than any other influential in the running, beating out both Katy Perry and Justin Bieber for naysayers."
This can explain Modi's rise with an equal amount of support and opposition in India and internationally. In order to determine the leaders who are featured on the list, TIME runs an online poll where readers can cast their vote for where politicians, actors, musicians and athletes should rank on the list. The top of the poll has otherwise been dominated by prominent figures from the entertainment industry, as per TIME.
After Kejriwal and Modi, Congress party vice president Rahul Gandhi, with about 37,000 reactions, ranked much lower on the list, after Kim Kardashian and Megan Ellison.
Voting for the TIME online poll closes on April 22, and the winner will be announced on April 23.
Earlier, Prime Minister Manmohan Singh, who has long been lauded for his pivotal role in liberalising the Indian economy, had been dubbed as an "underachiever" by TIME. The report say Singh appears "unwilling to stick his neck out" on reforms that will put the country back on growth path. 79-year-old Singh was also featured on the cover of TIME magazine's Asia edition. With his portrait in the background, the title on the cover reads 'The Underachiever - India needs a reboot'.
Read the full TIME magazine article here: Top US magazine dubs Manmohan Singh an 'underachiever'