SP chief Mulayam Singh Yadav's son Akhilesh Yadav on Thursday took an oath as the chief minister of Uttar Pradesh.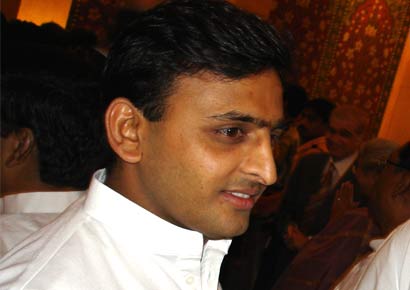 Akhilesh Yadav, who played a major role in revival of SP's fortunes in Uttar Pradesh and helped it get absolute majority, was today sworn in as the 33rd UP Chief Minister, along with 19 cabinet ministers and 28 ministers of state.
Akhilesh, son of SP chief Mulayam Singh Yadav, at 38 will be the youngest Chief Minister of the country's most populous state.
The function, held at La Martiniere College ground here, was attended by members of SP's first family including Mulayam Singh Yadav, Akhilesh's wife Dimple, Union minister Pawan Kumar Bansal, Congress leader Motilal Vohra, Jaya Bachchan, Punjab Chief Minister Prakash Singh Badal, INLD leader Om Prakash Chautala, CPI(M) General Secretary Prakash Karat, CPI leader AB Bardhan and industrialists Anil Ambani and Subrata Roy Sahara.
As representatives of BSP supremo and former CM Mayawati, ex-cabinet ministers Naseemuddin Siddiqui and Swami Prasad Maurya were also present.
Shortly after being sworn in, Akhilesh, a post-graduate in environmental engineering from Australia, said the first meeting of his cabinet will be held in the evening to take important decisions.
"Samajwadi Party will fulfil promises made in the manifesto. Law and order will be our responsibility from today. Action would be taken against officers doing injustice," he told reporters here.
Attacking the Mayawati government, Akhilesh said, "Organised corruption as happened in the previous regime never took place in the state. There were restrictions during the previous government and UP is now celebrating democracy."
Besides being the youngest chief minister, Akhilesh is the first chief minister, whose father Mulayam Singh Yadav had held the post thrice.
Akhilesh had successfully spearheaded the SP campaign during assembly elections in which the party got absolute majority winning 224 seats in the 403-strong house.
Cabinet ministers, who took oath, were Azam Khan, Shivpal Singh Yadav, Ahmad Hasan, Waqar Ahmad Shah, Raja Mahendra Aridaman Singh, Ambika Chaudhary, Anand Singh, Raghuraj Pratap Singh alias Raja Bhaiyya.
Other cabinet minister, who were sworn in, were Balram Yadav, Om Prakash Singh, Awadhsh Prasad, Parasnath Yadav, Ram Govind Chaudhary, Durga Prasad Yadav, Brahma Shanker Tripathi, Kameshwar Upadhyaya, Raja Ram Pandey, Raj Kishore Singh and Shiv Kumar Beria.
Akhilesh's ministry is a mix of old and new faces. While veterans like Azam Khan, Waqar Ahmad Shah, Shivpal Yadav, Ahmad Hasan and Ambika Chaudhary have been given cabinet berths, new faces like Abhishek Mishra, first time MLA from Lucknow north seat, has also been inducted in the ministry.
Adequate representation of Muslims in the government has been ensured with three cabinet ministers and seven ministers of state in it.