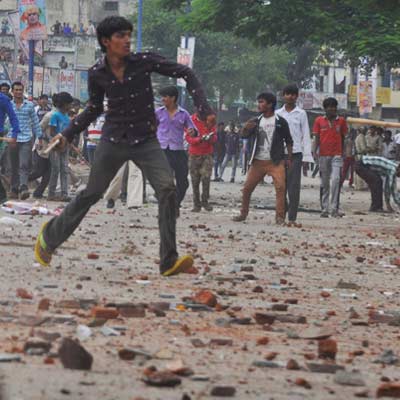 Over 500 stone-pelters and trouble-mongers have been arrested across Kashmir to ensure peaceful voting in the remaining two phases of Lok Sabha polls in the valley, police said today.
"To ensure peaceful voting in Central Kashmir (Srinagar Lok Sabha constituency), police have been taking preventive measures and have arrested around 400 stone-pelters and trouble-mongers," a police spokesman said.
He said arrests were also effected in North Kashmir (Baramulla Lok Sabha constituency) where 60 stone-pelters were taken into preventive custody. The spokesman said 70 arrests were made in south Kashmir (Anantnag Lok Sabha seat) in view of stone-pelting incidents and violence by miscreants on the day of polling on April 24. "Further arrests are expected in coming days as more stone-pelters who have already been identified are yet to be arrested," he said.
The spokesman said nobody will be allowed to disrupt the electoral process.