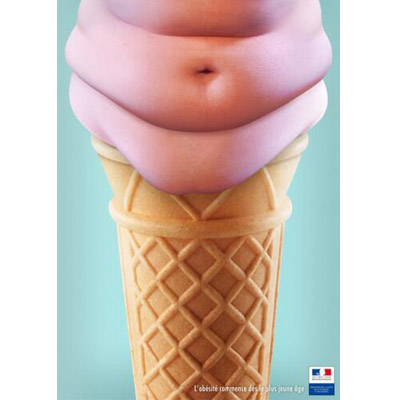 If you're ignoring your health and pigging out on junk food, you should take a look at this poster released by the French Ministry of Health. This poster, that has made news all over social media, aims at creating awareness about obesity in children. Some might think it is appropriate, for some it may be entirely inappropriate, but no one can ignore it, once they come across it. You might immediately go on a diet!
The slogan on their poster simply reads: 'Obesity starts at a young age'.
Here are some of the Twitter reactions to this advertisement.
Obesity starts from childhood ~ simple, insightful, creative http://t.co/LQRXZzeZQA

— bhatnaturally  (@bhatnaturally) March 22, 2014
This image from the French Ministry of Health aims to raise awareness of childhood obesity. Is it a powerful message? pic.twitter.com/oguGFDLNIH

— Ireland AM (@IrelandAMTV3) March 27, 2014
Insulting and uninformed. Yuck! The French Ministry of Health Campaign Addresses Child Obesity. #weightstigma #haes http://t.co/Of6p3nWMRj

— Anna Sweeney MS, RD (@DietitianAnna) March 24, 2014
Creative ad by the French Ministry of Health. pic.twitter.com/zPHR2vUnuB

— ??? ??????? (@Hindalkhudairi) March 25, 2014
An amazing poster from the French Ministry of Health to fight against childhood obesity… via http://t.co/enc2nsbXMV

— Dubie Bacino (@opajdara) March 21, 2014