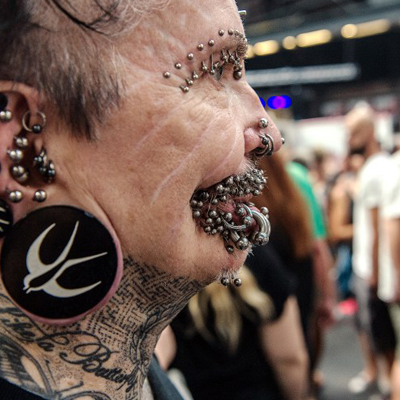 2012 Guinness world of records holder for the world's most pierced man, Rolf Buchholz, was barred from entering Dubai on Sunday. He was turned back at the airport before his planned appearance at a night club in Dubai.
The airport officials however gave no reasons for denying entry to the 53 year old German, who sports over 453 piercings and two horns on his forehead. He was put on a flight to Istanbul.
Buchholz told the Associated Press news agency that he was initially allowed through immigration, but was later stopped prior to customs and put on a flight to Istanbul.
Buccholz was scheduled to appear at the Cirque Le Soir nightclub at the Fairmont Hotel on Shaikh Zayed Road as part of its Freaks and Beats night on Friday.
"Cirque le Soir Dubai always strives to bring unique entertainment and concepts to the UAE, however we will always act in line with the laws that govern this nation," Jad Lahoud, executive director of Pragma Lifestyle, which operates the club said in a report. "We will always be on the look out for new acts and performers that will bring something new to the nightlife scene, whilst ensuring they are inline with the rules and regulations. It was a shame that Rolf couldn't join us this time."
After the incident Buchholz took on Twitter vowing never to return to the emirate although his luggage was still in Dubai. Buchholz said : "At the end I got an answer why I can't enter Dubai. "The immigration thought I am Black Magic."
Although Dubai is far more laid-back and liberal than Saudi Arabia or Qatar, traditional Islamic values remain strong, particularly among members of the local population who are far outnumbered by foreign residents. Actions deemed insulting to local values, including public displays of affection, public intoxication and disrespect for religion, can lead to fines and jail time.