Come January 10, and Bangalore's Nicole Faria will be making her Bollywood debut with 'Yaariyan'. The model-turned-actress divulges details about her role, her co-actors, and her director, Divya Khosla Kumar.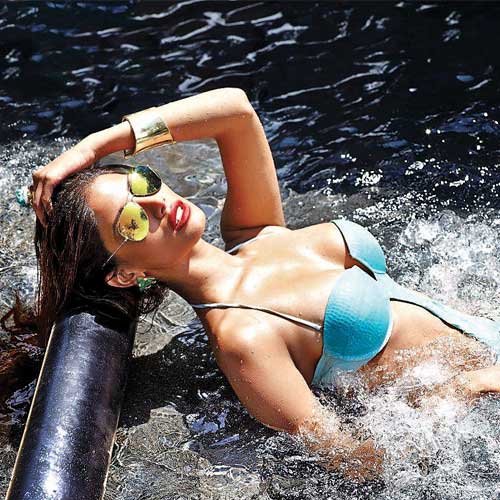 From an up-and coming Bangalore model to winning the Miss Earth pageant (2010) and then following it up with a movie role, Nicole Faria, it appears, is leading the charmed life. As some one who'd always aspired to become an actress, making a debut in a film backed by T-Series seems like the perfect start, indeed. "I'd always considered modelling as a stepping stone to acting," she opens, and with her taking the first step toward the dream, Faria admits that she is now "aiming for the stars." "The sky is the limit, really," gushes the PYT, adding, "but because I can't sign anything till the release of Yaariyan, I haven't seriously considered any other offer yet."
Fair enough. So, training sight on her movie-of-the-moment, here's Faria telling it like it is...
Bagging the offer
I'd come back from the year-long Miss Earth pageant duties and was scrolling through mails on Facebook when I came across one of them from Ashish, the associate director of Yaariyan. He'd sent me a message telling me that they'd seen my performance in the pageant and wanted to meet me for a film. I laughed it off thinking it was some prank but my mother who was sitting with me asked me not to be ridiculous. She asked me to share her number with the team and next thing you know, they were calling her. I ended up meeting the team for an audition within two to three days. Frankly speaking, the first audition freaked me out because they gave me a Hindi script and I am not used to conversing in Hindi. My mother however convinced me to give it a shot.
Eventually, I ended up giving about seven to eight auditions before I got the final call.
My role
I play Jiya, the college hottie; she's the girl whom every boy wants and every girl wants to be like. A bold, confident girl, she's the wingman to all her guy friends, and wants to make it big in life.
My first scene
Was shot in October last year. It was for the pyjama party song, ABCD. The entire shooting experience was all very new for me. But I wasn't nervous because, and I can't think of a better way to say this except that, Divya had shot the entire movie before she shot the entire movie. By that I mean, she had shot the entire film, scene to scene, on a handycam first, during an extensive workshop that was held for us. During the workshop, Divya wouldn't let us leave till we'd perfected every dialogue and expression. Which is why, once the official shooting began, I wasn't scared one bit.
One word to describe my co-actors and director
Himansh Kohli: Naughty. He is always up to some prank or the other.
Rakul Preet Singh: Clumsy. She is the sort you'll find bumping into mirrors or doors.
Shreyas Pardiwalla: Clown. He is always making all of us laugh, so he was the entertainer/ joker of the group.
Dev Sharma: Fashionable. He is the most stylish amongst us, and is always ready for a photo shoot.
Divya Khosla Kumar: Since she's a balance between being strict and affirmative and affable, we all had given her a name on the sets — Sweet Hitler. Though Yaariyan is her first movie, as a director, she is the kind who knows what she wants, and gets it.