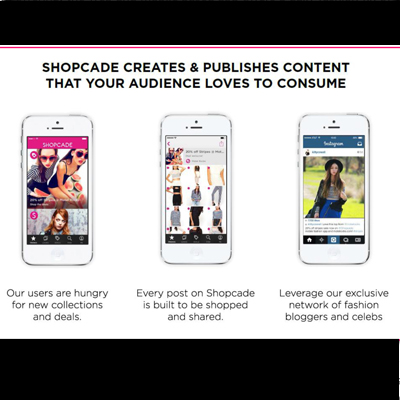 Shopcade, a social online application for fashion, is now launching in India. Also know as the 'Instagram for fashion shopping', Shopcade is very popular in the UK and the US, with over 850,000 registered users. The application, which helps you keep up with the latest fashion trends, will launch in India on July 10, 2014. In an exclusive interview with dna, co-founder of the app, Hoon Kim talks about the app and what makes it stand out.
How did the idea to make this app struck you?
In Hong Kong, there are these cute little stores which are divided into different personalised cabinets by different people showcasing what they like. It is like multi-shopping, which makes sense because you bring different things together. With everything happening online, we wanted to come up with an app which allows you to do so. This app allows you to pick clothes which are in fashion in a very personalised way as we showcase what celebrities and bloggers wear, and make them available. As this app is being launched in India, we will showcase what Indian celebrities wear as well as global trends. If your favorite magazine has an editorial which you like, we will showcase those clothes, and do the same for the musicians as well. Basically we want to make all kinds of shopping available.
Did you face any problems while building the app?
The only problem was how to make it user friendly. We had to aim at what was easier for the people than what is easier for us to build, and the best way to make available all the brands to purchase. If you click on "shop on the product" it will take you to the page where it is available to buy. Our aim is to make "one-click" shopping available. Soon you will be able to put up a look and have similar options available to shop. As a technical company the most difficult thing for us is to question, "What to do next?", as it is very competitive out here.
What age group are you targetting?
It is mainly between 18 to 34 years, mostly girls and even the older women who use the app to shop, and they shop a lot. Even the people outside the demographic use the app a lot. The app is useful for anyone who is into trends and fashion.
How is this app different from other apps available? How do you plan to compete with them?
There are many social shopping apps available, but their focus is the product. They even have a product of the day and other such schemes. What we found from our personal experiences and feedback is that these sites focus on selling them something while we focus on the products in demand and try to make them available in the market for the people.
Is the online app different from the mobile app?
No. They are just like a mirror of each other. The only difference is that the online app showcases a wider range and more products to view. But the mobile app is focused on more as it is used more often. Especially while traveling, people go through such apps, and later, when they have the time, they go online and buy it. Our mobile app leads to more engaging and the website leads to more purchases.
Why launch the app in India?
In India, we never told anybody about Shopcade, but they kept visiting Shopcade and using the app. We never promoted it, but still had many buyers registered and shopping from this app. Previously, Asia was related to lot of production, but now it is more about the product. So, it seems like the right time to launch the app here. First, we plan to experiment with the products available and see what the audience here wants and what suits them. Later, accordingly, we will come up with more, new content which is most suitable. We are even coming up with a concept of "style battles", which will be a weekly competition where people can upload their photos and tag the brand. The most liked photo of the week wins goodies and prices.