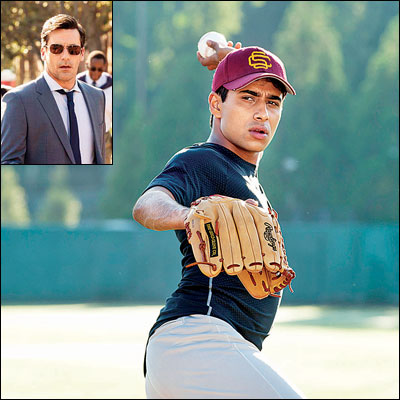 The last time we saw Suraj Sharma he was stranded on a boat with a Tiger struggling to survive in the Oscar Award nominated drama Life of Pi. This time around he's playing Rinku Singh the first Indian to be picked up by a professional American baseball team in Craig Gillespie's Million Dollar Arm. Rinku's incredible journey from a small town to LA moved Suraj and the chance of working with Hollywood star Jon Hamm (Don Draper from Mad Men) lured him into signing this film. Here Sharma chats with me about preparing for the role and introducing Jon to Indian culinary.
Tell us about the research that went into playing Rinku ?
It was a lot of hardwork. Baseball is a completely alien sport to me. I had to learn everything from scratch. There is a lot of technical stuff that was very important to play this role. I did a lot of reading, chatting up with coaches and also watching baseball matches. Since I had to actually pitch the ball in the film my action had to seem effortless and fluid. Frankly I haven't even played or watched much of cricket, so it was a totally new sport for me to learn.
Did you get to meet Rinku Singh the guy your role is based on ?
Yes he was present with us during the shoot and I got to spend a lot of time with him and watch his body language. His personal story is incredible and really inspirational. He has a lot of innocence in his way of pitching and it was important that I pick it up and mimic it.
How was it shooting in India and introducing the culture to your co-star Jon Hamm ?
It was amazing. We had such a great time shooting in Agra. In fact initially it was a bit of a culture shock for Jon and the American crew. We shot in the scorching heat and with 200 extras who were regular people who came to see us shoot. Jon was amused by everyone asking him to try out various dishes and see different places. But the best experience we had was when we went visiting Madhur's (Mittal) grandmother and had basic ghar ka khana. Jon and the rest of the crew couldn't stop asking for second servings and raving about our hospitality.
After Life of Pi, what are the kind of films you want to do ?
I am thrilled to be part of Million Dollar Arm. This is the kind of film that I want to do where we tell a story of two individuals whose journey and success has gone unrecognized. I hope people go see it and celebrate the pride that Rinku and Dinesh have got to India.
(Million Dollar Arm releases in India on May 9th, a week before its US release)