When JK Rowling gave us a taste of what Harry Potter is upto after 7 years, the internet went crazy. On Tuesday, Rowling published a piece on fan website Pottermore, written from the perspective of Daily Prophet news hound Rita Skeeter. The gossip correspondent​ writes about Harry Potter and his friends meeting up once again, describing how the friends have aged, what's been going on in their lives, and even hints at the future.
Today, Rowling once again gives Harry Potter fans what they want as she publishes her next write-up, this time taking on two avatars in the form of Ginny Weasley and Skeeter. The intense showdown between Brazil and Bulgaria was comprehensively covered as a live blog by the two ladies. As the first article Rowling wrote focused on Harry, Ron and Hermione, this one takes a closer look Percy, George and Charlie Weasley.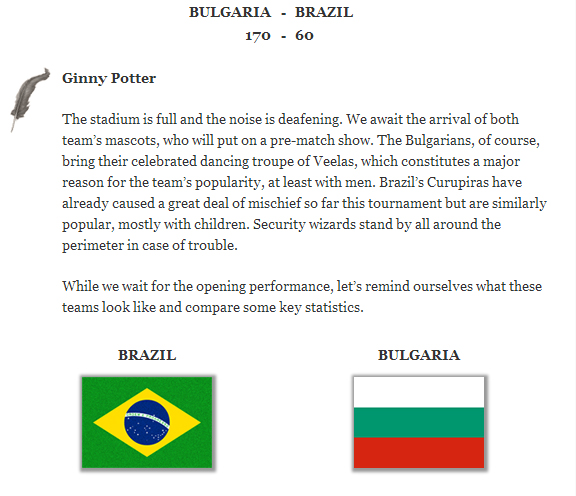 Enjoy Potterheads. Read the transcript here.

The VIP boxes are now full. Chairman of the ICWQC, Mentor Metaxas, chats to the President of the Argentinian Council of Magic, Valentina Vazquez, but all eyes are on Box Two, where Dumbledore's Army sit under close guard, to prevent mobbing by an overexcited crowd. The Potter family – minus Mother, Ginny Potter, who of course is here in the journalists' enclosure with me – have been given prime places in the front row. All are wearing the red of Bulgaria except middle child Albus, who is sporting Brazilian green. This will undoubtedly send the gossips into overdrive – what message is young Albus sending us all by choosing to support a team other than his father's? A team, lest we forget, that is competing against his father's ex-rival, now friend, Victor Krum. Are we witnessing a very public, very ugly display of father-son rivalry? My colleague, Ginny Potter, who is sitting close enough to read everything my Quick-Quotes Quill is scribbling, informs me that Albus is a great fan of Brazilian Chaser Goncalo Flores. That, of course, would be one possible explanation for this oddly public parade of familial dissent.
Up in VIP Box two, Ronald Weasley appears to have become catatonic. Did I just see wife Hermione Granger administer a sharp elbow to the ribs?
It is always enchanting to observe young people enjoying the culture of other wizarding nations. Unfortunately, Master Teddy Lupin and Ms Victoire Weasley appear to be far more interested in what they are saying to each other than – I take it back. In what some may see as a somewhat belated show of parental authority, Mr Bill Weasley has swapped places with his now very sulky-looking daughter and is directing her attention to the pitch. It is indeed a terrible waste not to drink in the magnificent spectacle now unfolding before us, with the colours and dancing and what not.
Harry Potter is scratching his ear.
Almost all of the Weasley family are supporting Brazil. Certainly nobody can have expected Ronald to cheer on his wife's ex-boyfriend. Both his children – Rose, who appears to have inherited her father's unfortunate hair, and Hugo, who has his mother's bushy locks – are decked out in green, but Hermione Granger is not wearing anything to indicate which team she is supporting. Does she secretly hope to see Krum take the trophy at last? Or is this the kind of diplomatic neutrality one might expect of a ruthless careerist whose long-term ambition is undoubtedly to be Minister for Magic?
Neville Longbottom is already on his feet cheering, even though nothing has really happened yet. Is he drunk?
Luna Lovegood appears to be passing out some kind of snack to her friends in the VIP box. Some might hesitate to accept baked goods from Lovegood, whose schoolgirl nickname, I am reliably informed was 'Loony'.
Neville Longbottom is laughing hard at something that Harry Potter has leaned across and whispered to him. What is so amusing? Why such an open display of humour in full view of the public? Surely Potter is aware that everybody in the stadium can see him? Is it not rather elitist to enjoy 'private' jokes with fellow celebrities when people in the cheap seats cannot hear them?
Albus Potter has almost toppled out of the VIP box cheering his Quidditch hero. His uncle Ronald seized the back of his robes and saved him from what would surely have been a death of international significance, spawning news stories across the wizarding world. Brother James is laughing heartily (did he push is brother?). Harry Potter appears completely unconcerned, merely handing his second son one of 'Loony' Lovegood's treats.
Harry Potter is cheering every well-hit Bulgarian Bludger, whereas his supposed best friend Ronald Weasley appears to be gnashing his teeth in chagrin. Hermione Granger is yawning. Whether she intends to convey boredom, or is merely exhausted after Dumbledore's Army long night of noisy revelry in the VIP section of the camp site, her Argentinian hosts can only be offered by such bltant rudeness.
Head of the Department of Magical Transportation Percy Weasley is frowning as he follows the match. Greying and balding, he has aged considerably since the Battle of Hogwarts (where, of course, he became the unfortunate embodiment of the phrase 'better late than never'). Unkind political opponents may call him a 'nit-picking bureaucrat', but others go as far as to say that he is 'not that bad once you get to know him'.
Charlie Weasley – or 'The Unmarried Weasley' as he is often known – is a burly chap carrying several burns due to his work with dragons. Like his sister-in-law Hermione 'Bored Yawn' Granger,he is paying little attention to the match, preferring what seems to be a most interesting talk with Rolf Scamander, husband of 'Loony' Lovegood. How difficult it has been to marry 'into' Dumbledore's Army we can only speculate. Nobody who witnessed it it will ever forget the shock on Scamander's face when he saw Lovegood's wedding dress – rainbows, spangles and a tiara of silver unicorn horns, voted 'Most Hideous Outfit of the Year' by readers of my regular Daily Prophet column. While Lovegood and Scamander appear to be holding hands in the VIP box, this might well be because Rolf is trying to prevent his wife from putting on one of her famous Special Event Hats.
George Weasley, wealthy co-owner of joke shop Weasley's Wizard Wheezes, has only one ear. This disability did not prevent him from marrying his dead brother's ex-girlfriend Angelina Johnson, or from fathering two children with her: Fred and Roxanne. They are putting on a show of family togetherness up in the box. However, few will forget the recent rumours that – in spite of the plentiful gold brought in by such inventions as Puking Pastilles – Anglenia has grown relentless in her marriage and recently left the marital home to – my colleague, Ginny Potter, has just informed me that Angelina left the marital home to care for her sick father. Many will think that a likely story. Meanwhile, Teddy Lupin and Victoire Weasley have taken advantage of their elders' inattention to find their way back into adjacent seats.
A great groan has issued from the crowd, undoubtedly in response to Ronald Weasley flagrantly and openly kissing his wife on the cheek. This piece of disgusting exhibitionism appears to have disgusted spectators – my colleague Ginny Potter, has just informed me that the crowd groaned because one of the players has sustained an injury.
Cold-hearted Hermione Granger did not notice her ex-boyfriend's injury immediately, due to the ill-judged public display of affection instigated by her husband, but she swiftly put on a display of concern. The same cannot be said for Neville Longbottom, who appears to be spiritedly describing the precise manner in which Krum sustained his nosebleed for the benefit of his godson, Albus Potter. An oddly callous display from the popular Herbology teacher.
Dumbledore's Army seem agitated and tense. Has one of them grievously offended the others? Have bitter wounds been reopened here, in front of thousands of people, where everybody hoped merely to enjoy a unique sporting occasion? Ought Dumbledore's Army draw such flagrant attention to themselves when – apparently- something exciting is happening on the pitch? Or are they using this as a cover to air old grievances.
Everyone is on their feet, including the denizens of the VIP boxes – Harry Potter is shouting – if my lip reading is accurate, Ronald Weasley is swearing -
Teddy Lupin has accidentally punched his girlfriend on the nose as he gesticulates – are we about to witness a breakup, live at the Quidditch World Cup?
Teddy Lupin and Victoire Weasley snuggled up together again – don't they care about Quidditch at all? Should they be taking up valuable space in this stadium, when all eyes ought to be glued on the pitch? When so many poor witches or wizards would simply love to be here?
I can't see the VIP boxes – everyone is jumping up and down-
Ah, that's better – people are calming down, I can now see the VIP boxes – well, Dumbledore's Army seems to approve of the victory, Harry Potter in particular seems emotional – with a determined grin on his face, Ronald Weasley conceals his inevitable annoyance that his wife's ex-love is being feted by the Quidditch world – young Albus is applauding, doubtless at the prompting of his publicity hungry father – my colleague, Ginny Potter, is approaching me, no doubt with another tedious correc
Rita Skeeter has been taken unaccountably ill with what some are calling a jinx to the solar plexus…
This is every Harry Potter fan after reading this.
Read Also: 17 years hence, Harry Potter - The Boy Who Lived, Lives On.
All Inputs via Pottermore