Wilbur Sargunaraj speaks to DNA about his love for music and his upcoming movie, Simple Superstar.
He has taught a Japanese man how to tie the 'Veshti' in Times Square in New York; the eastern latrine is world famous because of his epic video demonstrating the right use of it and he used a hilarious music video to announce his decision for a love marriage to his parents. Now, Wilbur Sargunaraj plans to make a film!
It all began with his love for what he does. "I never thought I'd be in the position that I am in today. All of a sudden people liked what I created. My love for music is what drives me to make a video, so I can get the song out there to the viewers. If you can't share a song what good is it?" asks India's first YouTube star, who makes music videos only to share his music and it is mandatory for him to have a 'first-class' time while making the video.
Seated in Café Goa, Wilbur sips Bovonto, a popular soda drink from South India. The man is on a mission to find the extraordinary in the common. "It is my mission statement. In my video, Love Marriage it was important for me to show those women dancing around me. Each one of them had their own stories," he says.
Finding the extraordinary in common and sharing it with his fans drives him. The social networks also help him in this journey. If he comes across something common yet extraordinary, it goes up straight on Facebook or Twitter. But what makes his stuff so popular across platforms?
"The fact is that it is simple and does not show people what to do in a rigid manner. The beauty is in portraying it in an engaging manner," he says. "I like to talk about stuff that is taboo! And I want to clear up things like why we don't use the left hand to eat in India? It is very vague and it needs to be made clear you know." But don't call him a rebel, for he dislikes the term. "I don't rebel. I simply show you my way of thinking. Nothing against what you think," he says.
He puts his point across through his music and by "keeping it simple". The viral video star believes that thinking too much makes the idea lose its charm, so he keeps his videos as candid as he can. "My videos are shot by a random person who happens to be walking by! Those people might think who is this crazy person," he laughs.
The film, Simple Superstar will be an exception though. Wilbur's friend Ben Stamper will be shooting the film. "Every single person who is a part of this movie is handpicked. My agent, my actors, they are all my fans. It is a dream come true for me."
With the film, Sargunaraj wants to do what he loves — break rules. "When I used to play drums for other bands, I was constantly told that I should behave in a certain way. But I felt one should break the stereotypes. And it is a subversive message I want to give through my videos and this film."
That is exactly why his leading lady for the film is a beautiful, dusky girl from South. "People see Bollywood and Shah Rukh, Aamir and Aishwarya and think that is what Indians look like. I want to show real India with this film!"
Simple Superstar will encourage people to go beyond the external beauty and celebrate the beauty within, Wilbur informs us as he clicks a picture with us. "We pay so much emphasis on the external elements. Who's shooting your movie? What's the budget? Who's doing costumes? But for me, it is the inside that matters. First class skill and first class character; put those two together and you have something exciting. The interesting thing is that you can teach people skills, but not character," he adds.
People who work in Simple Superstar, he says, are happy people who sharpen each other while they work together. "People know me as this crazy guy who makes mad videos, who is funny and stuff but behind all that, there's a thought, a philosophy and a message," says Wilbur as he hands us the poster.
"It is good to be successful, and one needs to have a job and do other things, but we should never forget to develop our internal selves. Put your iPhones and iPads and Blackberries down once in a while and spend some time with your loved ones. Be a part of the community."
Wilbur's aim is to create a community of people who encourage each other. He's convinced that putting his movie together will be a phenomenal journey, because he is going to get such people together. "I want to create memories with people, and I want to take it one step further and change the way people think."
Not only does he plan to make people understand the brevity of life, but he also wants them to be the "best that they can be". "A chiropractor came to my concert and then e-mailed me saying that in her 40 years of life she had never danced but she danced at my concert. Something had withheld her until then."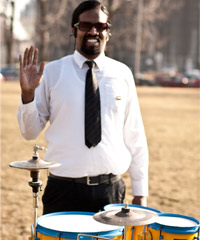 "'What will people think?' Is one of the most restraining questions one can ask themselves. We can never move forward because you are letting the society define what you can or cannot do."
Just like his songs convey, Wilbur hopes that his fans use whatever they have to make a difference. "Don't take unnecessary pressure on yourself. If your life is stressful and you have too much money, does it really work for you?"
The film will see 100% first class original music by Wilbur from his album Simple Superstar and Wilbur promises that it will be a first class journey for his fans! "This movie is going to show the journey of how I grew up and became India's first YouTube star. And I didn't give myself that name, the fans did," he clarifies.
The film goes on the floors this month and Wilbur wants to release it to the festival circuit first. "But I want to do a trailer tour too where we show a long trailer before my concerts. We are still planning, and the amazing thing is that people around the world are clued in about what we are doing."
The Chicken 65 fan has only one sponsor on board for the film —Bovonto. "Bovonto is a popular soda drink in South India. When we get a stomach ache, the first thing my mother says is get a Bovonto. It is one of those common things that are extraordinary."
As we check his Facebook page where he has posted a picture of us together, Wilbur talks about being a free spirit, "Don't think too much! I don't have a distributor but that's not going to stop me from making this film. I am excited about going into production next month."
And if you want to be a part of the film, go, ping Wilbur on Facebook, he promises to respond.