Aamir Khan made fun of SRK calling himself number one. SRK says he will confront the star over his comments.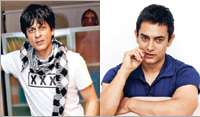 "It's painful, very painful," says Shah Rukh Khan, talking about his shoulder injury. "I take steroids to kill the pain, but it's only getting worse. I am worried that in the four to five days before the surgery (scheduled for Feb 16 at Nanavati Hospital) it will only get worse. I don't know how I will cope up," he says in a rare moment of weakness. The constant shooting pain might have curtailed his energy a bit, but SRK continues being the busy body he always is. Only difference? He takes a bit of a breather in-between meetings.

There is something else that has pained him enormously. When SRK was away, Aamir Khan made fun of SRK calling himself number one. SRK is seething, "I will confront Aamir and ask him why he said such a thing. I accept a lot of things, but I think this is not funny. When I say I am number one, I definitely don't mean it in arrogance. I say it with a sense of humour and a sense of humility. But I guess it will take a lot for Aamir to understand that," he says, with a laugh. And then he gets serious again. "Gauri (his wife) gets upset when I crack jokes about naming my dog Aamir. She thinks why should I bring myself down by doing or saying such things? I respect her viewpoint and I understand that she doesn't want me to lose my dignity, but sometimes I think it is absolutely necessary as people ask for it," he says.

Ask him if Aamir giving Ghajini buzz cuts to the ushers during the release of Rab Ne Bana Di Jodi made him angry, he says quickly, "Not at all. Anyway, I was not the producer of that film. And actually, probably, I would have also done some kind of a marketing trick like that. I might want to do something better for Billu," he says.

Talking about Billu, SRK is playing a superstar in the film. "It is a superstar who is very different from the one I played in Om Shanti Om. This one's more normal and is just trapped in superstardom."

Er, somewhat like him? SRK just smiles.