Bollywood and society turn up in full force for an action-packed evening, thanks to a party to welcome international talk show queen Oprah Winfrey in Mumbai.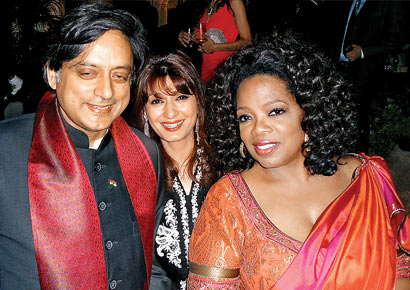 Talk show queen Oprah Winfrey's first day in Mumbai turned out to be a star- studded extravaganza with the creme de la creme of Mumbai making an appearance to welcome her in the city.
Most A-listers had already marked the date well in advance and gave their attendance at the dinner party. After meeting the Bachchan family, Oprah headed to the party to the Godrej House with the Bachchans in tow. It may be noted that she is in India to attend the Literature Fest and shoot for her new show, for which she would travel around the world, interviewing celebrities, news-makers and others.
At a private party hosted by philanthropist Parmeshwar Godrej Monday night, Oprah came dressed in an orange and pink sari, and interacted with every person present there. The party saw several Bollywood A-listers, including Amitabh Bachchan, son Abhishek, daughter-in-law Aishwarya, Shah Rukh Khan, Priyanka Chopra and Preity Zinta. A heavily pregnant Lara Dutta was also spotted getting chatty with the talk show queen and even clicked a picture which she posted on Twitter. "@Oprah and @iamsrk, two people I absolutely adore! Thankyou for making my day! Now can go into labour happily!" Others present at the bash included jewellery designer Farah Khan Ali and husband Aqeel, Hrithik and Sussanne Roshan, Sameera Reddy, Dino Morea, Imran Khan, Neha Dhupia, Anil Kapoor and writer, Shobhaa De. Music composer AR Rahman made a rare appearance at the high-profile do. Actor Neha Dhupia said, "She is incredible, wonderful, charming, warm, and attentive to say the least. It definitely goes down as one of the most memorable experiences of my life."
For jewellery designer Farah Khan Ali, it was an exhilarating moment to come face to face with Oprah. Talking to us, she says, "I am on cloud nine. It has been my dream to meet her once in my life. I was so excited to meet her, I changed five costumes before finally deciding what to wear. She is my idol and my mother (Zarine Khan) is a bigger fan of her talk shows. She has no airs. All of us, including Sussanne and Hrithik were thrilled to interact with her. All of us took pictures."
Oprah said she wore a sari for the first time. Designer Queenie Singh, who was on the exclusive guestlist, reveals, "Oprah was quite comfortable in the sari, considering she had worn it for the first time. She carried it off quite elegantly. She was so excited to be in India and had wonderful things to say about the country."
Oprah, who mingled with everyone, was seen sampling a few Indian dishes as well. She gave a vote of thanks speech at the end of the party, thanking the hosts and the people who turned up to welcome her."
She later tweeted, "FarahKhanAli was so great meeting you and all the beautiful Bollywooders. Directors, poets, screenwriters, what a nite! @FarahKhanAli, just opened your gift..WOW!" What a fun nite."