Hrithik Roshan has hired a German company to build a 'gym' for his sons at his new apartment.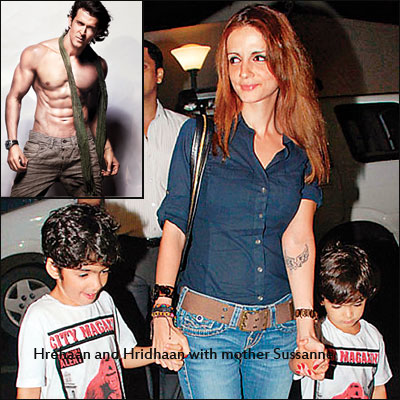 Hrithik Roshan is a doting father and it's there for everyone to see. Whether it is on his birthday or Valentine's Day, he is never without his two sons — Hrehaan and Hridhaan. He is now getting a high-tech fully-equipped play area for his sons at his address. The actor, who is currently living with his parents has gotten himself another apartment at Juhu. He has hired a German ramp-building company Camp Ramps to create a kids zone at his new home. This will be a surprise for the boys, who are presently living with their mother Sussanne Roshan.
Camp Ramps are professional partners for high quality-fun sport facilities for the sports BMX, skateboard, Le Parkour/Freerunning, MTB, FMX and climbing. They design sophisticated room utilisation concepts with different elements and areas for different training purposes using wooden, concrete or steel-elements. The company designs and constructs customised concepts for their clients.
Says a source, "Hrithik asked them to build a sort of a gym with ramps and parkour. It will also have method training blocks, gymnastic devices and mini ramps. He is quite sporty and wants to encourage his sons to be the same. Construction work is currently going on at the apartment. Before enlisting the company's services, Hrithik did a thorough research of all gym building architects and designers and found them to be the best."
The source adds that the children's 'gym' will have everything they require for a child's fitness programme. "But it's been designed keeping in mind the fun elements too, like pyramids and climbing walls. That is why everything is taking so much time. The actor is personally supervising and selecting each and every equipment that is going into the room."