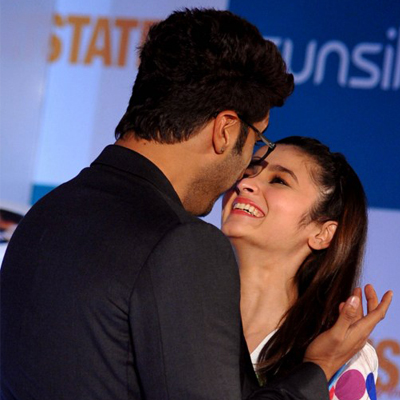 Even as Arjun Kapoor continues to be in denial about the rumours of him dating his 2 States co-star Alia Bhatt, the 'couple's' actions speak otherwise.
The 2 States co-stars are making headlines these days, and it is not only for their film.
Going by a selfie of the duo, Alia posted on Twitter, the two not only look very comfortable in each other's company, but seem to enjoy it too.
The actress tweeted a picture of her getting cosy with Arjun saying:
Trying to take a selfie during Arjun's interview ! #2states #18thApril pic.twitter.com/DxSgdIinfW

— Alia Bhatt (@aliaa08) March 30, 2014
This is not the first time the actors posed happily with each other for selfies.
The chemistry between the actors, who have quite a few steamy scenes in 2 States, was more than apparent when they got cosy and went on a selfie spree at a recent event for promoting their film.
However, Arjun has not shied away from making his anger over the link-up rumours public. According to a daily, the actor went on a rant when a journalist asked him if he was dating Alia.
A peeved Arjun said, "Yes you are right. We get along well. And when we work on a horror film, we will hate each other during the promotion! What do you expect?"
And that was not all, the Kapoor lad went on to add, "Everything is for show. My friendship with Ranveer is just for show too. And this friendship with Alia too, is for show."
Well, this reminds us of the old adage — there is no smoke without fire and the rumoured couple's actions are only fanning it.
2 States is a film based on Chetan Bhagat's novel of the same name and is scheduled to hit the screens on April 18.
The love story is striking quite a chord with the masses with its young and breezy music.