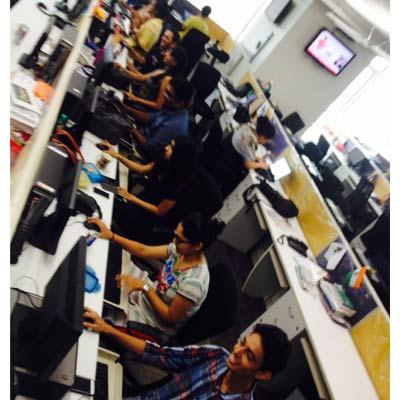 When asked "Why do you work?" the obvious replies are "because we have to" or "simply for the money" or "out of boredom" and so on. But after starting my internship with the dna online team recently, I now have some interesting reasons to work here.
1. The working atmosphere: The environment at dna web desk is "chilled-out" unlike other places where you have to dress formally, behave in a certain manner, talk in a particular way. It's a small team but full of ideas and enterprising people. People are extremely helpful and informal. There is no hierachy, no table manner; all you need are good ideas and an aptitude to have fun while working.
2. Flexible working hours: This is not a 9-5 job. You get to pick a schedule most suitable to you, as long as you deliver what you promise.
3. The people and the team: The average age on the web team is mid 20s. It is full of people who want to help you with your work and give you opportunities to grow. All the editor asks for is initiative.
4. Express yourself: From politics to Bollywood, we can write and express our views on any topic. Good ideas that are well executed alway sell at dnaindia.com.
5. The work: There are no clocked hours. It is a bunch of youngsters who have come together to create a new generation news website, for our generation. As they say dna is not your father's newspaper!
(p.s: the office is in heart of Mumbai. India Bulls Finance Centre, Lower Parel)
dna online team is looking to hire a few talented enterprising young writer cum reporters, why don't you give it a try? Go through the tweets below and send your resume across.
#Vacancy at http://t.co/YFUoaqsI37 for sub editors with good news sense. kunal.majumder@zeemedia.esselgroup.com #Mumbai #Freshers

— Kunāl Majumder (@kunalmajumder) June 5, 2014
#Vacancy at http://t.co/YFUoaqsI37 for writer with interest in social media & internet. kunal.majumder@zeemedia.esselgroup.com #Mumbai

— Kunāl Majumder (@kunalmajumder) June 5, 2014
#Vacancy at http://t.co/YFUoaqsI37 for reporter-writer on development beat with 1-2 year exp. kunal.majumder@zeemedia.esselgroup.com #Mumbai

— Kunāl Majumder (@kunalmajumder) June 5, 2014
#Vacancy at http://t.co/YFUoaqsI37 for reporter-writer on business beat with 1 year exp. kunal.majumder@zeemedia.esselgroup.com #Mumbai

— Kunāl Majumder (@kunalmajumder) June 5, 2014
#Vacancy at http://t.co/YFUoaqsI37 for reporter-writer on tech beat with 1 year exp. kunal.majumder@zeemedia.esselgroup.com #Mumbai

— Kunāl Majumder (@kunalmajumder) June 5, 2014
#Vacancy at http://t.co/YFUoaqsI37 for reporter-writer on entrtainmnt beat with 1-2 year exp. kunal.majumder@zeemedia.esselgroup.com #Mumbai

— Kunāl Majumder (@kunalmajumder) June 5, 2014
#Vacancy at http://t.co/YFUoaqsI37 for reporter-writer on political beat with 2-3 years exp. kunal.majumder@zeemedia.esselgroup.com #Mumbai

— Kunāl Majumder (@kunalmajumder) June 5, 2014