The Satnamis from Odisha were rescued after an NGO was tipped off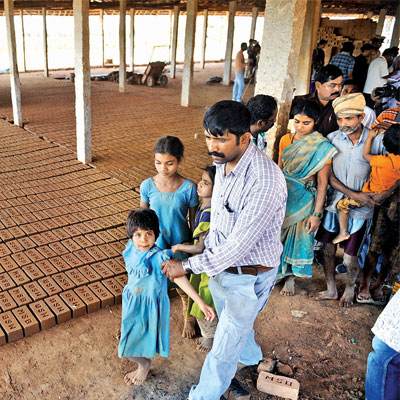 A couple and their five minor children from Odisha, who were allegedly forced to work as bonded labourers at a brick manufacturing unit at Kannurahalli near Hoskote on the outskirts of the city, were rescued on Thursday.
The rescue operation was conducted jointly by the State Human Rights Commission, labour department, revenue department, and the Child and Women Welfare department, along with the Action for Social Justice, an NGO.
Aman Satnami, 45, Anla Satnami, 35, and their children, Bhavani, 13, Siva,12, Drupati, 10, Dhuleni, 7 and Vaishnavi, 3, of Gundewali in Odisha, were forced to work at Manjunath Swamy Bricks (MSB) in Kannuaralli for the last six months.
Muniyappa Gowda, who owns the unit, was taken into custody by the police, who have registered an FIR against him.
Shiva Prasanna, coordinator, Action for Social Justice, said last week they received a complaint through their network. After inspecting the factory, they contacted the SHRC and organised the raid.
The head of the rescued family, Aman had a horrific tale to tell.
"We had problems in earning our livelihood in Odisha. We came here seeking a better end to our lives. But the owner, from whom we took Rs 32,000 in July last year when we came here, gave us only food and forced to work from 3 in the morning to 6.30 in the evening," Aman told dna.
Aman and his family were brought to Kannurahalli by an "agent", Khirasinde Sangarika, who later declined to accept the family's calls.
"We do not know when we will complete repaying the money which we borrowed from the owner. When I asked the owner, he said still you have not completed paying the money taken from me," Aman said.
Surprisingly, the owner of the unit admitted that the family had repaid the amount borrowed from him.
"I pay them Rs300 for every 1,000 bricks they make. I have deducted the amount they borrowed from me," Muniyappa Gowda told dna.
He said he had even paid Rs18,000 as commission to the agent who had brought the family to the brick factory.
"I had done all I can afford to admit the children at Government higher primary school, Kannurahalli. But the children stopped going to school, as they could not understand Kannada," the factory owners.
He claimed that he was a Congress party worker and was paying his labourers their wages promptly.
Manjunath, assistant commissioner, Bangalore rural district, said: "We have asked the NGO, Action for Social Justice, to ensure that the rescued family gets all required facilities. We have contacted the deputy commissioner of Naupada district in Odisha for repatriation of the family. Soon, the family will be sent back by train. Legal action would be taken against the accused", he said.