While removing the artwork, it came off in pieces and could not be retained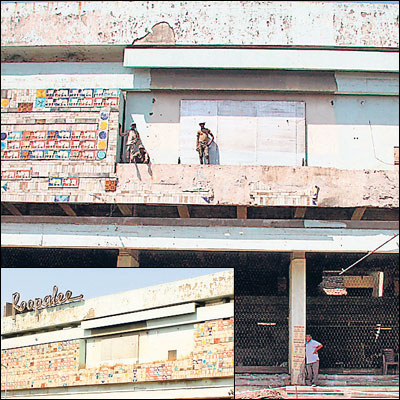 Rapid urbanisation and commercialisation has completely changed the roop of Rupalee cinema. After much debate and controversy over the demolition of the 45-year-old cinema, it has finally been demolished. Plus, the beautiful mural on the wall has been turned into pieces, too.
Although many artists had requested the builders to preserve the artwork, they failed. The mural, created by well-known painter Satish Gujral, was put up on the wall in the late 1950s and today its market value could be somewhere between Rs50 lakh and Rs1 crore. "The unique artwork was more of a beautiful design created by painter Gujral. It was made of numerous tiles creating an abstract wonderful design. It was unique in the sense that a well-known painter had created such a huge mural, which sadly could not be preserved," said eminent artist Amit Ambalal.
"We were ready to gift the mural to the artists as it was of no use to us. However, while it was being removed, it came off in pieces. Though we tried our best to retain it, it was not possible," said Sajid Memon, one of the three builders, who own the property.
The property is owned by Sajid Memon, Neeraj Shah and Azim Punjabi. Unfortunately, the artists, who wanted to restore the mural, have also given up. "In spite of our efforts, even 1% of the mural could not be saved, due to which the artists cannot restore it anymore. It's gone to pieces," rued Memon. Though the demolition of the cinema began two months back, the removal of the huge mural measuring 200 sq ft required a fortnight and will be completely removed in a day or two.
Apart from the artwork, another controversy was that the property was close to Siddi Saiyed ni Jaali, an ASI (Archaeological Survey of India) protected property. With this, it was important to seek the permission of ASI for any kind of construction within a 100-metre radius of the heritage property. However, the builders have recently got permission to carry out construction. "Recently, the National Monument Authority gave the clearance to the builders, allowing the construction, as the property is 105 metre away from the heritage property. However, we have also demanded a written bond from the builder that they would not carry out any construction within a 100 m radius," said an ASI official.
Rupalee cinema was sold off by Chandra Kalaben in 2002-03 to a private firm, which has many commercial structures in that area. Also, the building had been lying abandoned for nearly 30 years, after which the owners thought of demolishing it.
"During a recent meet with our partners, we thought of constructing a commercial structure on the land. However, there is nothing on paper right now on the building layout. But we will finalise it in a month or so," said Memon.