Locals irked over candidates in Banaskantha, Kutch, Panchmahal & Amreli.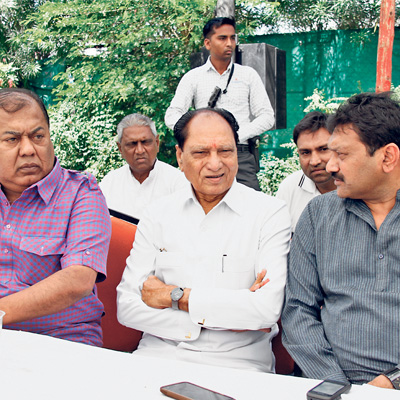 Congress needs to set its own house in order before taking on the Bharatiya Janata Party in the upcoming Lok Sabha election. For, the party is facing protest in four constituencies like Banaskantha, Kutch, Panchmahal and Amreli over selection of candidates.
The Congress's decision to field Dhanera MLA Joitabhai Patel from Banaskantha has irked the Maldhari community leaders. The community was expecting Raghu Desai to be named the candidate instead. The dissident Maldhari leaders held a meeting at Thaltej on Wednesday to chart out their future course.
"Around 800-900 people attended the meeting. We will also hold a gathering of around 10,000 people from the community on March 21," said Nagji Desai, president of the Maldhari Ekta Samiti.
He said the Maldhari community had a sizeable vote share in Banaskantha and Raghu Desai's name was proposed unanimously. "This is the third time that the party has done injustice to Raghu Desai," claimed Desai.
A delegation of the community will take their case to Gujarat Pradesh Congress Committee president Arjun Modhwadia and also make a representation to the party high command in Delhi if needed.
The Congress was also forced to withhold the name of Paranjayadityasinh Parmar as the candidate from Panchmahal after making the announcement on Tuesday. It is believed that the Congress MLA from Thasra, Ramsinh Parmar, and others are against the candidature of Paranjayadityasinh, the former MLA of Santrampur. Incidentally, he happens to be the son-in-law of All India Congress Committee general secretary Digvijaya Singh, too. Following the party's decision to withhold the name, Parmar met Modhwadia on Wednesday morning.
In another development, the Congress candidate from Kutch, Dinesh Parmar, too, has been facing protest from his party colleagues. It is believed that Raju Parmar, a former Rajya Sabha MP, was in the race for the seat along with local candidate Velji Daniya. As Parmar had lost the assembly election from Jamnagar earlier, he is considered an outsider.
Again, there seems to be a dispute between former MP Virji Thummar and Paresh Dhanani, the sitting MLA from Amreli, in the Amreli LS constituency. But, both Thummar and Dhanani simply discarded it as rumours. "I had made an announcement of not contesting parliamentary elections six months ago," said Dhanani. Meanwhile, Thummar flew to Delhi to attend a meeting of the high command on Wednesday.