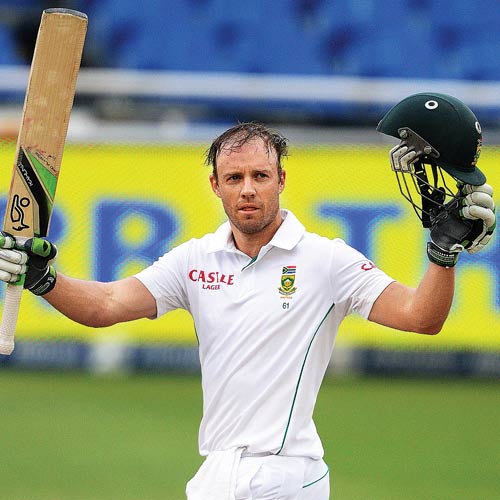 There's a reason why the best actor in a supporting role also gets an Oscar. If Faf du Plessis's 309-ball vigil was an epic, then AB de Villiers's 103-run effort was certainly no less significant.
A day after taking his side to within 56 runs of a monumental triumph in the first Test at the Wanderers, the world's No. 1 batsman was all smiles during the flight from Johannesburg to Durban. With wife Danielle and all his teammates and their families for company, de Villiers was his energetic self all along.
But soon after landing in the port city, de Villiers made his displeasure known to the media. "It's a very sensitive issue," he said when asked if South Africa should have gone for it. "Obviously we're disappointed we didn't win the Test match after getting so close. I think India are also very disappointed they didn't win.
"Robin Jackman summed it up pretty well on TV, saying that both sides were disappointed but cricket won at the end of the day. It was a great Test match. You've always got to remember that it was a great effort on our part to get that close. It's really tough to sum it up at the end. It was a make-or-break situation and a silly mistake could have cost us the match." Prolific as ever, de Villiers and du Plessis were involved in a match-defining stand of 205-run stand for the fifth wicket. Coming together at the fall of Jacques Kallis at 197/4 in the middle of the first session, they batted on and on for 62.3 overs. But once de Villiers dragged an Ishant Sharma delivery onto the stumps, South Africa lost the upper hand. The dismissal of JP Duminy in the next over only made matters worse. Vernon Philander and Dale Steyn then blocked out most of the deliveries as the Test ended in a dramatic –– almost traumatic –– draw.
"A lot of people are blaming Dale and Vernon for not going for it at the end, but I believe that you should never make your Nos. 9, 10 and 11 responsible for getting the runs. That's the job of the top order, first of all, and the likes of me, Faf and JP and, perhaps a little bit, Vernon.
"The moment Dale walked to the crease, I thought the right thing to do was to save the Test match, which he did. There are so many things to take into account and people who don't know the game that well will blame us, no matter what. We had to think of wickets falling in clusters. It was very tough for the new batter. Faf and I found it very difficult for the first 20 balls," he said.
According to de Villiers, it was difficult for some of his teammates to accept the result. "Dale was really upset; he struggled to handle it. It took Graeme (Smith) and a few guys to talk him through it that he made the right decision. With everyone booing and everyone criticising him, he was upset. Vernon, too, took a lot of strain. It was up to the team to pull him through that. He's doing fine now, but it was really tough.
"Graeme was quite nervous, running up and down the change-room. There was a mix of emotions. Afterwards, we had a really good team talk where (coach) Russell (Domingo) spoke.
Graeme also spoke very wise words.
"He said we pulled off an amazing draw and what an amazing team we are and reminded us what we've achieved over the last few years. We're a team with character and we must continue believing in ourselves despite the criticism. That's why we play the game ultimately, for each other."
Abbott joins SA squad
Fast bowler Kyle Abbott has been added to South Africa's squad for the Boxing Day Test against India, which begins in Durban on December 26. Abbott has been called in as cover for the injured Morne Morkel, who sprained his ankle during the first Test and is doubtful for the second.