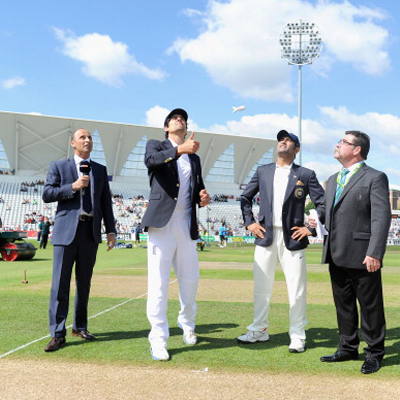 India take on England in the first match of their 5 test match series on Wednesday. India will want to run away from demons of the past, and look to reverse their poor overseas record. England, though having won their last three series against India (both at home and in India), were humiliated by the Aussies in the return Ashes series and the recent loss against Sri Lanka has only added to their woes. Devoid of the players like Alastair Cook, Stuart Broad, James Anderson, Kevin Pietersen, Graeme Swann and Jonathan Trott who really shone in their previous encounters against India, the England team will want to continue its winning streak, while for India, who will look to fight the history, MS Dhoni, Gautam Gambhir and Ishant Sharma are the only ones who played in the last three series.
Having won the toss, MSD decided to bat first and the batsmen didn't let him down. After a great start by Murali Vijay, who hit three consecutive boundaries against Anderson, India were reduced to 38/1 after Anderson struck in the seventh over when he shaped the ball away from the left-hander and Dhawan went for a tentative push only to be caught behind by Matt Prior. After the fall of Shikhar Dhawan, Cheteshwar Pujara and Murali Vijay gave India just the foundation it needed. The first session of the match belonged to India as England tried to draw pace and bounce from what appeared to be a lifeless pitch. Vijay, who scored his second half-century in just 68 deliveries, seemed to be in excellent form, hammering as many as twelve boundaries.
Later, after lunch, things started slipping for India. Pujara was sent packing after a beautiful catch by Ian Bell. Anderson bowled a reverse-swing delivery and Pujara went for an on drive. Bell flung himself to his right at silly mid on and took a blinder. Within a couple of minutes, Kohli fended at one outside off by Stuart Broad, and he edged it to Bell at second slip, who made no mistake. Some reverse swing after lunch counted for the wickets of Pujara and Kohli, but Vijay and Rahane look solid, and have started to up the run rate once more. Vijay now has his sights on his fourth test century. All in all, an even session with India just starting to take control again.
Just after tea, another batsman falls. Rahane went for the pull , but Liam Plunkett's ball was so slow it cannoned off the toe of the bat and went straight to Cook at silly point. While the pitch may not have exactly brought a classic, the doggedness of England's bowlers got them rewards, and they will feel they're still in this game. However, the star of the show was Murali Vijay, who batted throughout the day. He hit his fourth test century, his first outside India. With MS Dhoni playing a very safe hand, India will look to crack on tomorrow.
At Stumps on Day 1:
Score: 259/4 in 90 overs
MS Dhoni 50* (64)
M Vijay 122* (294)
Wickets:
V Kohli (1) (c Ian Bell b Stuart Broad)
C Pujara (38) (c Ian Bell b James Anderson)
S Dhawan (12) (c Matt Prior b James Anderson)
A Rahane (32) (c Alastair Cook b Liam Plunkett)
Overs 68-90: 63 runs, 0 wickets
India 259/4
Murali Vijay hits fourth Test century!
Overs 60-68 : 18 runs, 0 wickets
India 196/4
MS Dhoni 9* (12)
M Vijay 100* (214)
WICKET! A Rahane (32) is out, c Alastair Cook b Liam Plunkett
Overs 56-59 : 11 runs, 0 wickets
India 177/3
M Vijay 92* (176)
A Rahane 32* (77)
Over 51-55 : 28 runs, 0 wickets
India 166/3
M Vijay 89* (164)
A Rahane 24* (65)
Over 46-50 : 13 runs, 0 wickets
India 138/3
A Rahane 14* (54)
M Vijay 72* (145)
Over 41-45 : 5 runs, 0 wickets
India 125/3
A Rahane 12* (40)
M Vijay 61* (129)
Over 36-40 : 13 runs, 0 wickets
India 120/3
A Rahane 8* (24)
M Vijay 60* (115)
Over 31-35 : 1 run, 2 wickets
India 107/3
A Rahane 0* (7)
M Vijay 55* (102)
WICKET! C Pujara (38) is out, c Ian Bell b James Anderson,
Over 26-30 : 12 runs, 0 wickets
India 106/1
C Pujara 38* (67)
M Vijay 55* (89)
Over 21-25 : 23 runs, 0 wickets
India 94/1
M Vijay 53* (76)
C Pujara 28* (50)
Over 16-20 : 18 runs, 0 wickets
India 71/1
M Vijay 41* (57)
C Pujara 17* (39)
Over 11-15 : 11 runs, 0 wickets
India 53/1
C Pujara 10* (29)
M Vijay 30* (37)
Over 6-10 : 15 runs, 1 wicket
India 42/1
C Pujara 4* (10)
M Vijay 25* (26)
Test 1, Day 1
Toss: India, who chose to bat
Venue: Trent Bridge, Nottingham
Umpires: Kumar Dharmasena, Bruce Oxenford, Ian Gould, Rob Bailey
Referee: David Boon
India XI- M Vijay, S Dhawan, C Pujara, V Kohli, R Jadeja, A Rahane, MS Dhoni, S Binny, B Kumar, I Sharma, M Shami
England XI- A Cook, S Robson, G Ballance, I Bell, J Root, M Ali, M Prior, B Stokes, S Broad, L Plunkett, J Anderson