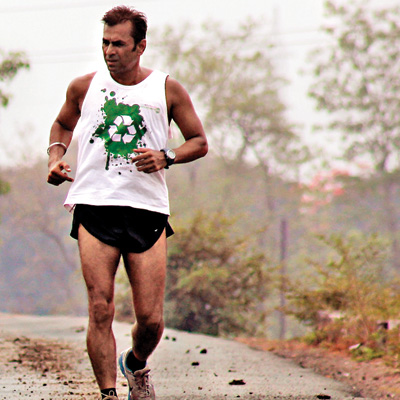 Goregaon resident Raj Vadgama, 47, is embarking on a herculean task — running 10,000km across 25 cities in India. An interior designer, Vadgama will begin his four-month challenge on Independence Day.
He is set to flag off his record-making run at 6am on Friday from the Gateway of India. Vadgama, an avid marathon runner, is attempting to create a Guinness World Record of completing his epic run in 120 days and aims to return to Mumbai on December 12.
One full marathon consists of 42km, which means Raj will run two full marathons each day. "I am aiming to run close to 85km daily. I am attempting this ambitious adventure to test my endurance and encourage a running culture in India," he told dna.
Covering 25 cities, starting with Mumbai, Vadgama will run to Ahmedabad over the next 15 days. Later, crossing the deserts of Rajasthan, he will move towards Delhi. From the plains of Haryana and Punjab, he will move further north towards Jammu & Kashmir. Heading into the snowy and rough terrains at higher altitudes of Kargil, he will later deviate to Ladakh. Climbing down, he will move towards Himachal Pradesh and, later, from Uttar Pradesh enter West Bengal.
"From West Bengal, I will head to the hilly northeast in Nagaland and Meghalaya and, later, through Kolkata and Orissa. From Andhra Pradesh, I will head down to Tamil Nadu. From Karnataka, I will head to Goa and Pune and then Mumbai.
A Marathon coach himself, Vadgama runs close to 35km every day. "I will be running at a very slow pace. Every five to 10 km, I have to eat something to maintain my energy levels. A group of doctors will follow me in a vehicle," said Vadgama. Along the way, he plans to raise funds for treatment of children suffering from cancer and heart diseases.
Vadgama will pass through extreme terrains and fluctuating temperatures. Dr S Narayani, medical director, Fortis hospital, said, "What will test Vadgama's body even more are the extreme variations he'll face while crossing over from plains to mountainous terrains and from desert heat to icy mountains. The human body needs time to adapt to these changes, but only the fittest body will function efficiently under such quick fluctuations. This will probably be his biggest challenge."
Two years ago, Vadgama successfully attempted a run from Ahmedabad to Mumbai in a fortnight, running 35km a day. He later completed a 1,500km-long run in one month from Delhi to Mumbai, running 50km a day.
Serge Gerald from France holds the Guinness World Record for the longest run ever covering 27,000km in one year. "Also, a resident from Kolkata, Tirth Sunny Kumar, has completed 22,500km in one year. But covering 10,000km in four months will be a one-of-a-kind record," said Vadgama.