The dynamic lady has emerged to be the most significant social figure in the areas of business, education, health care, sports and philanthropy.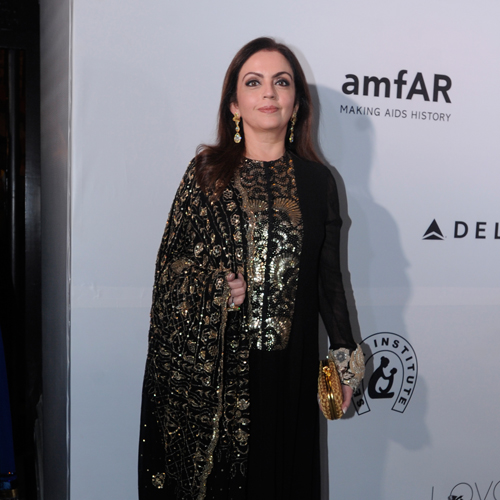 She is different things to different people - an inspiring figure in the healthcare department, an educationist, the perfect wife and mother, a devoted daughter-in-law, a great friend and mentor. Her life and career has been a litany of glowing achievements - the latest being the relaunch of the Hurkisondas Nurrotumdas Hospital at Girgaum.
She is a hands-on mother, speaks lucidly at world forums and her soirees are known to be legendary. No one turns down an invitation from Lady Ambani. From movie stars to sport stars. Politicans to leading businessmen, they all don their Sunday best for her dos at Anitilla Yet the warm and gracious host is rarely seen at society dos or parties. Nita makes an appearance when she represents some cause or her work.
Understated, like her husband Mukesh Ambani. When he decides to spoil her he pulls out all the stops. Whether it is XXX dollar yatch as a gift or her spectacular 50th birthday bash last November at the surreal Balsamand Lake Palace in Jodhpur, followed by a soiree at the sprawling Umaid Bhavan Palace. Picture 300 guests of the billionaire clan enjoying Nita's genuine warmth and meticulous hospitality. The 240-strong guest list included the Mahindras, Birlas, Mittals and the Godrejs, a whole sporting line-up from Ms Ambani's IPL team, and of course the Bollywood brigade led by Shah Rukh Khan, Aamir Khan, Karisma Kapoor and Rani Mukherji. Royal faces and political figures were present in full force too - Maharaja Gaj Singh and his family, politicos like Praful Patel, Rajeev Shukla and Uddhav Thackeray. Who can bring such a diverse array of personalities under one roof? Think harder and perhaps not one name comes to mind.
"For her birthdays, only a select few are invited and every guest is equal and well taken care of and there's no pecking order," shares Suhel Seth. "She's a perfectionist. Also, she's involved with every minute detail - be it her parties or other ventures. When we launched our book too, she was involved with every minute aspect of the venture," says designer and friend Sandeep Khosla.
However, besides her famed shindigs, which eventually become the talk of the town in the country, the visionary has, over the years, carved a powerful and inspiring persona through sheer hard work and inspiring leadership.
-State-of-the-art hospital-
"I have personally experienced tragedy...60 years ago my mother lost her sister due to polio. My mother still grieves for her," Nita had said in a media interaction recently. With her new hospital in Girgaum, she's created a new institution with a lot of heart and thought. "She's even made arrangements for patients' families and friends stay so that they could de-stress. She understands what a family goes through in these circumstances. There is a trauma counselling room. In the Operation Theatre, she's made arrangements for special lights so that patients don't lose their hair. There's also a provision for the music system so that doctors are comfortable during surgeries. The hospital serves the highest standards of food especially prepared by maharajs. There's a garden to de-stress and also a beautiful temple. A lot of gaiety, compassion and thought has gone in making of this venture. The family room is outstanding and there's the highest level of hygiene," shares close family friend Chhaya Momaya.
-Personal style-
Everybody loves Nita. Designer Sandeep Khosla says, "She is the best person for brand India. She promotes India internationally by wearing Indian clothes in a scenario where everyone is running to international brands. She has got great taste and promotes Indian designers. She's a participant in the dressing process. She loves what we do and stands by our aesthetic. We work colours around her. She has a distinctive sense of style and give her styling inputs as well. She has a great carriage and pulls off the outfits really well. I love her in Indian ensembles and she pulls them off really well. Even among international designers, she pulls off certain shapes really well. She definitely has her signature colours, silhouettes and embroidery techniques which she swears by."
Chhaya adds, "She's not at all brand conscious. I have never seen her go after a bag. She's never asked me what brand I'm wearing. She'd say, 'I love this colour and cut'."
-Being India's first lady-
Social commentator, columnist Suhel Seth has always maintained that Nita is a "born Ambani". "She is India's first lady. She's carved an identity that doesn't take away from that legacy. After she addressed at FICCI, a number of young girls went up to her asking for autographs. One of them said, 'Nita ma'am, you're our role model and inspiration for all of us'," recalls Seth. At one time Parmeshwar Godrej was the face of Indian society but now Nita has displaces her. Seth feels, "It'll be unfair to compare her with anyone. Nita has a much superior edge laced with sobriety and soberness. She has contributed in so many spheres - be it the school or her cricket team. For the last 30 years, I've noticed both Mukesh and Nita display unimaginable personal care," he shares.
-Legendary attention to detail-
"Nita's attention to detail is legendary. There's no event manager. From the menu to the text on the invite - she takes care of everything. In today's times when everything is outsourced, Nita's deep concern is refreshing," Suhel quips.
He recalls a note-worthy incident when it was 13 degrees in Davos. "We were in Anand Mahindra's Scorpio. In that icy cold weather, Mukesh waited to hold Nita's hand at the end of the car. Even their close friends Anand and Anuradha Mahindra and Swati and Ajay Piramal reflect that character. Even their kids are so rooted and I've never seen them step out of line. I think their mother has been a potent influence on them," he says.
-A hands-on mother-
"You know, I keep on saying that I am their friend, but eventually I am their mother. So that line is drawn and they know that. They may take liberties with me, but they'll never take advantage," said Nita in a interviews.
Nita's daughter Isha in an interview with HELLO! India magazine had said, "My mom is my role model in every way, but what I really think is the fact that she embodied this incredible energy, and manages to play so many roles to the tee..."
Chhaya says, "Her kids mean the world to her. Akash has the same heart as her while Isha is a sharp shooter. Anant is so amazing that if you approach him with any problem, he'll ensure it's resolved. At any point in time, she knows where all the three kids are (no matter whichever part of the world they maybe in) and what are they doing. She knows exactly what her children are doing."
-A great wife-
"She still puts her husband before her. For even the smallest of things, her response would be, 'I'll talk to Mukesh and then get back.'" says Chhaya.
In one of her interviews Nita had mentioned, "During our dating days, Mukesh used to have a Mercedes, so for all our dates we'd go in that car. Once I told him, "You have to travel my way, in a BEST bus." I said, "The best seat is the front seat on top of a double decker" and he came with me. It was my favourite bus route, because it went through Juhu beach and you could see the sea and the sand from the top. We had such a blast."
"She's very conscious of what Mukesh would like - from colour to every other detail. She only wears dresses in which Mukesh would like to see her in," shares Chhaya.
-Nurturing Mumbai Indians-
"As the IPL team Mumbai Indians owner, she has two skill sets - she has been deeply involved with the management of the team and also provided a great motivational support," observes Suhel.
"The team is taken care of like family. They all call her bhabhi out of sheer respect. She is truly an inspiration and has an air of approach ability," comments Chhaya.
-The 4 AM friend-
Chhaya says, "She's truly a 4 AM friend. I have still to meet someone who's so warm and generous after the stature she's achieved. She's extremely thoughtful, she's looked after not just me but even my extended family. Once she was in Geneva in a board meeting and my mom called her to inform that I wasn't keeping well. She quickly called her nurse and sent her to my house. She has a heart of gold. To me she's unreal."
Seventeen years ago Chhaya was with Nita on a trip to Jamnagar where she created a huge township. "Back then too she was so considerate and thoughtful that for her employees she created extra room sso that their aged parents can come and stay," she recalls.
-Evolution of the brand Nita Ambani-
"Over the years, she's become even more affable and has even more capacity to work hard. She's the finest speaker - whether she is addressing school children or NSC. However, her basic qualities haven't changed. In the future, I see her playing a greater role at international forums like World Economic Forum. Journalist Tina Brown told me that one person she'd like to invite for the woman's forum in New York would be Nita alongside Hillary Clinton," adds Seth.
-Juggling roles effortlessly-
Nita has nurtured the Dhirubhai Ambani International School since its inception in June 2003 as the chairperson of the school and also headed the Dhirubhai Ambani Foundation, which is a non-profit organisation primarily devoted towards the promotion of education and health care services for the poor and under privileged in India.
She is also part of Reliance Industries and UNAIDS partnership which is aimed towards halting and reversing the HIV epidemic in India. She spearheads Project Drishti, a unique initiative by RIL and NAB, with a vision to give sight to blind people from the underprivileged segment at no cost. Under the project, she started a Hindi fortnightly newspaper in Braille.
Playing so many roles with an effortless elan - educationist, businesswoman, philanthropist, wife, daughter and mother - Nita Ambani is clearly the ultimate role model for young girls of today's evolved India. In a social set comprising so many flash-your-cash princesses, Nita is a refreshing surprise who has style and a panoply of achievements.