A play delves into what goes on in a child's mind while his parents dream of his success and career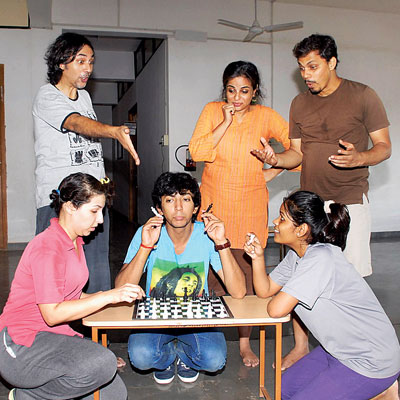 Jaimini Pathak is back with the story in which he played the protagonist 15 years ago. Only this time, he is producing and directing The Boy Who Stopped Smiling. The play is about opening a dialogue between parents and children, regarding parental expectation vis-a-vis what children really want to do in life. "It is gentle, humourous and poignant, with a lot of song and dance. It is is inspired by the format of non-escapist theatre for children evolved by Volker Ludwig in the late 1960's at his GRIPS Theatre in Berlin. Ludwig believed that children (and parents) could be sensitised about serious real -life issues, albeit in an entertaining manner," explains Pathak..
The boy
Taken from an existing script written by Bombay-based playwright Ramu Ramanathan, 15 years ago, the story revolves around little Malhar who is a chess prodigy. But he has also stopped smiling! His sister Mallika and her friend Ashwini want to pack him off to the zoo. Mummy prays to all the gods, while papa calls upon Dr Bhuskute, also known as the Boss of the Enemy Camp. The audience will come to know if Dr Bhuskute eat Malhar up or if Malhar will be able to fulfil his dream of defeating the great Vishwanathan Anand
Child psychology
"My myriad experiences in the field of education with schools, students and parents have convinced me that the play is as relevant today as it was 15 years ago, if not more so," says Pathak. There are no child actors in the production. The GRIPS Theatre format stipulates that professional adult actors play the roles of children in the play. "Children's theatre in Bombay has seen a resurgence in the past 10 years or so. This is a wonderful trend, since children were an almost untapped audience before this. It is vital to bring them to the theatre, if only to simply engage in the joy of a live performance," he adds.
The play wants parents to try to be open-minded and liberal, appreciate diversity and celebrate differences. "If you can do that when you are young, or when your children are young, the country and the world would be surely be a better place to live in. No?" he asks.
When and Where: May 18 at NCPA at 4 pm and 7 pm