Officers on election duty at Mohammed Ali Road say there has a steady stream of voters coming in throughout the day. On condition of anonymity, one official said, "Since the start of polling today we haven't been free for more than two minutes on the whole. This is a good thing; it means the voter turnout is high this time."
According to Fareeda Abdullahad Saeed, a 62-year-old voter from one of the colonies bordering Mohammed Ali Road, "This is a tough election. It is better to have a secular government, one which at least makes an effort to listen to the community. Maybe this is why the voter turnout is fairly high here."
Agreeing with her is Fareeda Mohammed Yusuf, a 60-year-old voter from Santa Cruz, visiting his sister in Mumbai South. "We definitely want a secular government in power. The government at the Centre has been with us for a long time, we know them. Mumbai South may have the same result as 2009 and 2004 but I am not entirely sure if that will also happen in my own constituency," he adds.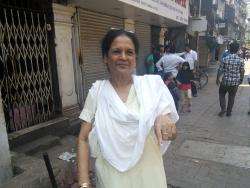 Fareeda Abdullahad Saeed cast her vote at the polling centre at Kammu Jafer Girls' High School on Kambekar street
In hope of a 'secular' government
A group of elderly Muslim voters in Pydhonie were spotted at a tea stall, after having cast their vote earlier this morning. When Iamin approached them, the men could be seen animatedly having a discussing about the elections and talking about the candidates in their constituency.
One of the men, Mohammad Hanif Kazi, said, "Everyone from our area will vote. We are worried that certain parties coming to power again will sound the death knell for Indian democracy."
Some men also said how people in the area have become very cynical with regards to the large political parties. "We middle class cannot decide much, no one listens to us. We just vote and move along with our lives," adds Kazi.