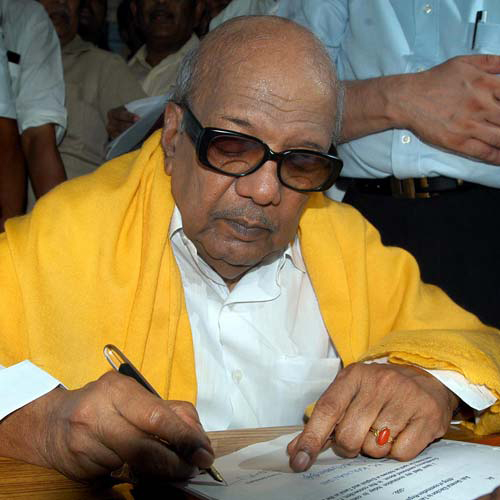 DMK President M Karunanidhi today lashed out at the ruling AIADMK, alleging that it is spoiling the good schemes and development works of his previous party-led Government.
Addressing election meetings in support of Karur DMK candidate Chinnasamy at Thuravarankurichi, 60km from here, he said, "Whatever achievements that were made by the DMK including concessions given to people, have been covered up by the ruling party, and the people are suffering now." Prices of all essential commodities, including edible oil and pulses, have gone up now, he said.
"The ruling party could not tolerate even good projects like the new secretariat and state assembly complex of the previous DMK government, and it is spending hundreds of crores of rupees more to convert the same into some other building," he said.
"DMK was defeated in the assembly polls for some problems here and there. The people were expecting a good regime, but they are experiencing suffering due to steep hike in the prices of essential commodities," he claimed.