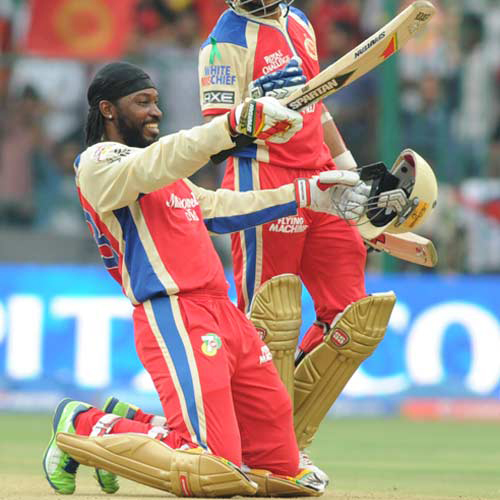 Royal Challengers Bangalore batsman Chris Gayle is missing from action so far in this year's Indian Premier League. Bangalore have lost two close matches - their last two - and it can only be concluded that the absence of Gayle is playing a major role in Bangalore's inability to close out matches.
Gayle was the second-highest scorer in the IPL last year, with 708 runs to his name. This included an astounding 66-ball 175, as well as four aggressive fifties, which set up the Bangalore innings each time.
Bangalore won their first game in IPL 6 because Gayle smashed 92 off just 58 balls. He followed it up with an unbeaten 85 off 50 balls against Kolkata, making the chase of 158 look like a walk in the park. At this point Bangalore had won 3 out of 3 games, and looked in terrific form. When their game against Delhi was tied, Gayle responded with fireworks in the Super Over, ensuring Bangalore secured the two points from the match.
The inability of Bangalore last year to reach the playoffs was more because of the patchy form of the rest of the batting, as well as poor bowling, in the later stages of the tournament. This time though, their batsmen (minus the absent Gayle) and their bowlers came together for a united effort in the first 3 games.
But how much impact is this all-round good form having for Bangalore? They won the first two games comfortably courtesy a good all-round performance, but they have stumbled ever since. Parthiv Patel has been in good touch, but he is no Chris Gayle. One cannot expect Bangalore to be, say, 50 in 5 overs and 100 in 10 when Parthiv is at the crease.
The other opening position has been up for grabs because neither Maddinson nor Takawale have shown any particular aggressive streak. The opening combination thus reeks of ordinariness without Gayle.
But Bangalore must have felt Gayle's absence the most when their batting collapsed in a heap on Saturday against Rajasthan Royals. Every side has such an off day once in a tournament, but a star batsman like Gayle can then make the score look respectable if he stands out. Another 50 runs would have been very handy for RCB that day, considering how Rajasthan hiccuped their way to victory.
The absence of Gayle at the top also means that the middle order has to take charge of increasing the scoring rate. While Virat Kohli and AB DeVilliers are well up to the task, one cannot expect them to fire in every match. A miraculous bit of fielding, like Chris Lynn's catch of DeVilliers on Thursday, can turn a match decisively in an instant.
The woeful form of Yuvraj Singh, bought for a whooping Rs 14 crore this year by the Bangalore management, is also complicating things for RCB. His unintentionally slow batting severely affects the run rate in the middle overs, putting enormous pressure on Kohli and DeVilliers. The unreliable Albie Morkel struggles against spin and cannot be trusted to take on the mantle of scoring quickly down the order.
Bangalore also do not have much bench strength. They are already playing what is easily their best side. The batsmen who are on the bench are mostly little-known faces of Indian domestic cricket without any great track record of IPL performance.
Thus, it all comes back to Chris Gayle. Bangalore would be silly, however, to expect a miracle out of Gayle the moment he steps out onto the pitch. An injured batsman who has not played competitive cricket for a while cannot show form from the word go. Thus, even if Gayle returns for Monday's match against Kings XI Punjab, Bangalore cannot merely rely on him to turn things around. They would simply pray for Kohli and DeVilliers to keep batting well, and for their bowlers - especially Starc, Rampaul and Ashok Dinda - to respond well as they have so far in the tournament.