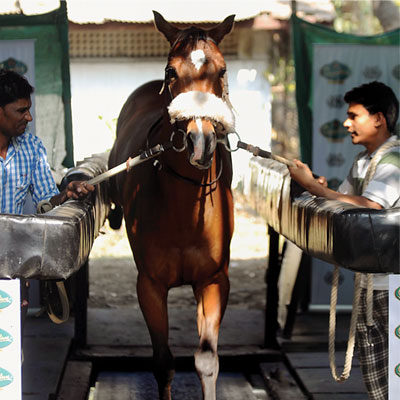 Murioi might be the first choice for many pundits but punters are wary about this colt only because it has won the Poonawalla Million.
The property of MAM Ramaswamy and coming from S Ganapathy's stable, Murioi stands out among the 15 contenders in this richest race of the country.
Call it misfortune or bad luck, the winner of the Poonawalla Million has never won the Indian Derby in the past six years, thereby keeping many punters away from it. Murioi has won many big races including the Ramniwas Ramnarain Ruia Gold Cup (Grade 2) and the Deltin Casinos Indian 2000 Guineas (Grade 1). However, pundits have a strong feeling that this colt will turn the tables and break the jinx.
"It has been happening in the past and everyone is aware that the winner of Poonawalla Million has never won the Derby, so there is no question of me going for this colt," said punter Sandesh Kumar, who wants to back Circle Of Life.
"Murioi could be the favourite for me only because it has won the Poonawalla Million," said Abdul Shaikh, one of the ardent followers of the sport.
A regular punter in the Pune and Mumbai race courses also feels that Murioi will never win. "This colt has won the Poonawalla Million and that says it all, so don't ask me anything about this colt. He is a good colt, but will never win Indian Derby," said Shaikh.
DERBY FACTS & FIGURES
Rise in prize money (Rs lakh)
2004: 77.12
2009: 187.25
2013: 300.00
2014: 321.70
MOST WINNERS
Owner: Dr MAM. Ramaswamy (6)
Trainer: RR Byramji (11)
Jockey: P Shroff (8)
Stud Farm: Usha (12), Poonawalla and Manjri (8 each)
Stallion: Grey Gaston (5), Razeen (4)
Record Time: 2:28.54s, Jacqueline, 2010
Biggest field: 22 runners, 1948
Instances of the first three place in the Indian Derby being all fillies:
1985: Revelation, Eminence, Prudential Champ
1999: Supervite, Running Flame, Priceless Asset
2004: Psychic Flame, Estonia, Sprungli
l Jacqueline is only the second filly to win The Indian Fillies' Triple Crown, a feat achieved after 45 years.
WHAT TO EXPECT OFF THE TRACK
Signature fashion shows. Prolific designer duo Shane and Falguni Peacock will showcase their collection. Superstar Akshay Kumar will be their showstopper. Designer Swapnil Shinde, with his bold sense of style, promises a show to look forward to.
International performers Serenity Sisters will engage the audience with their spectacular Broadway act. Asia's leading lady magician Yong Tian has been invited to perform some of her enthralling acts of Magic.
Indie rock band The Mr Printer Band will perform live. Also, popular pop-rock band, One Nite Stand, will perform some rhythmic blues, soft-rock and retro music.