Pune: Pune Instagrammers, a group started on Instagram by two enthusiastic cousins from the city seems to have doubled in popularity in just three months.
After the success of their 1st installment of Instawalk, Pune Instagrammers are organising a second one on April 6. The destination venue for the second walk, Aga Khan Palace, was decided through a poll that was conducted on their Facebook page.
Umang Parmar, co-organiser of the walk, said, "The walk starts at 7 pm at Aqsa Masjid and then proceeds to Yerawada Bird Watching Point. Post that, at 8.30 am, the team will move towards Aga Khan Palace.
Participants would then upload the pictures on Instagram and tag them with a pre-decided hash tag. By evening, winners would be selected and they will get gifts from Kodak collections who are the official gift partners for the walk.
Baljeet Singh, who has registered for the walk, is excited to meet other Instagrammers. "I would love to meet like-minded people and get to know them by adding them on Instagram," he said.
Pune Instagrammers is now a group of photo enthusiasts who come together once a month. The first Instawalk commenced at Shaniwar Wada on March 1 and was attended by 35 people. Vishwesh Kugoankar, winner of the first walk, said, "Mumbai had seen such walks before but I really wanted the same to happen in Pune too. Looking forward to the second one"
This time, the number of registrations has reached over 100. Manali Parmar, who organised the first Instawalk, said, "This event is more planned than the first one. This is something that every photography enthusiast from Pune should attend."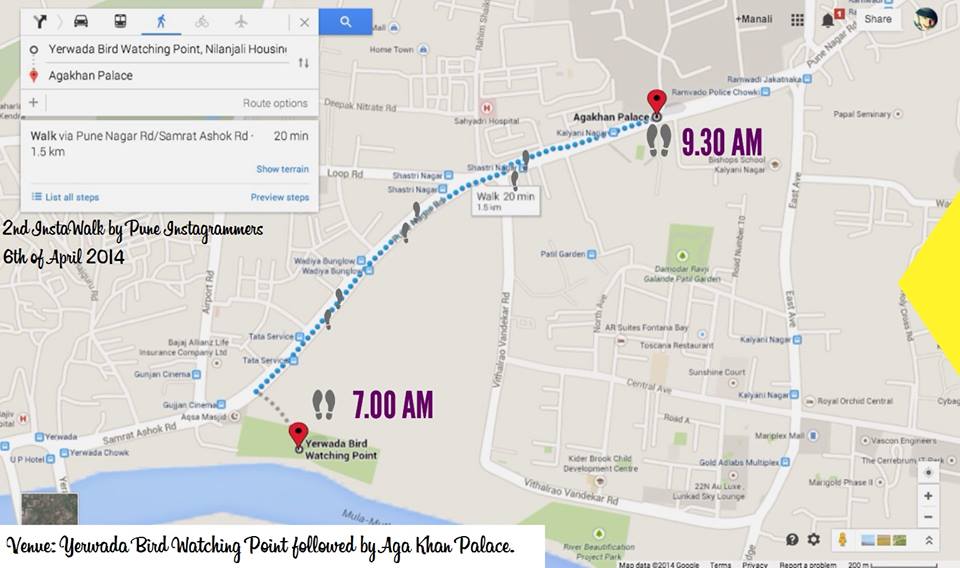 Quick info
Start time: 7 am
End time: 11:30 am
Meeting point : Aqsa Masjid
Destination: Aga Khan Palace
Contact: Manali Parmar , 9595314448
Facebook: https://www.facebook.com/pune.instagrammers
Twitter : @puneinstagrammers
Instagram ID: @puneinstagrammers
What is an Instawalk
An Instawalk is when a group of people get together to explore a place, while documenting their experience with photos, using Instagram (a smartphone app). Everyone sees the world in a different way, and snapping a photo of something one likes is a simple but effective way of sharing what you value about the world around you. One of the great things about Instagram is the ability to tag your photos, and when everyone in the group uses the same tag, it creates a montage of photos that represent the collective experience.
(with inputs from Manali Parmar)