DA staff distributing voters' slips on behalf of Congress: AAP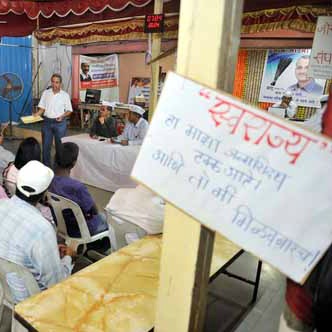 The new party also highlights some serious discrepancies about the electoral listShailendra Paranjpe @shailyaparanjpe
Pune: Aam Aadami Party (AAP) on Sunday alleged that the staff that was updating the voters' list by going door-to-door for the district administration was found to be distributing voters' slips on behalf of Congress candidate Vishwajeet Kadam.
AAP has also alleged serious lacunae, mistakes and discrepancies in electoral rolls for the Pune Lok Sabha seat. All these came to fore at a meeting organised by AAP for voters, whose names were deleted from the voters' list at its office at Aashirwad Mangal Karyalay in Mehunpura. Pune AAP candidate Subhash Ware and Shirur candidate Sopanrao Nikam were present on the dais.
Kiran Palekar, the Koregaon Park polling agent for Ware revealed that the school teachers deployed by district administration, were distributing Kadam's slips. He said that his own name figured in the list twice. Another AAP activist Srikant Acharya revealed that he given a voters' photo slip, but his photo did not figure in the electoral roll. He said that if they can print voters' photo slips, they should have the photo in the voters' list as well.
An advocate Sunil Mundada said that his name disappeared from the electoral roll, even though he checked in January. He revealed that his neighbor Gaurav Borade's name appears in the electoral roll four times, and his name also appears in the list of deleted voters. Many citizens aired their grievances, and Ware said that AAP will explore all its options to look for a solution.
Activists to approach Supreme Court
Pressing for voting opportunity for all whose names were deleted from the voter's list; experts, activists and political leaders on Sunday said that they will approach the Supreme Court in this regard.
Akhil Bharatiya Grahak Panchayat and Pune Vyapari Mahasangh organised a meeting to discuss the issue of deletion of names from the voters' list during Pune's Lok Sabha elections on April 17. They appealed voters whose names went missing from the list to approach their respective police stations with complaints against election staff and also approach the district collector office with an application to let them exercise their franchise before the results of this election are declared.
BJP candidate Anil Shirole said that his party would take a call, after waiting for favorable reply from the Election Commission in the next two days. RTI activist Vijay Kumbhar said that instead of gathering huge number of citizens, there was a need to take up handful of cases that can be met with a logical conclusion through the court.
Federation of Trade Associations of Pune treasurer Fattechand Ranka pointed out that his name appeared in January but was omitted in fresh list. Former IAS officer Avinash Dharmadhikari pointed out that there was no alternative, but to approach SC, since deletion of thousands of voters can not be a mistake by staff.
Air your grievance
Akhil Bharatiya Grahak Panchayat through its all branches and stores will collect the voter grievances. Ranka announced that FTAP would collect applications from voters at its Pune Saraf Association's office at Sancheti Chambers near Vijay Theater.