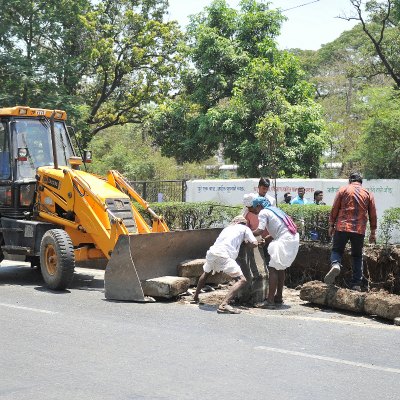 Pune: If a common man breaks a road divider and creates illegal punctures for shortcuts, it is a serious offence. But for making a smooth passage for vice president of the Indian National Congress, Rahul Gandhi, the authorities choose to become offenders themselves. A day before Gandhi's rally at the SSPMS ground, the traffic police along with civic administration, broke dividers on the Raja Bahadur Mill Road at various spots.
Gandhi will be addressing a public rally on Tuesday in support of Pune's Congress candidate Vishwajeet Kadam. Expecting a large turnout for the rally, the police have made some security arrangements at the venue, and claim that the breaking these road dividers is a part of the same.
Dividers have been broken at two places — one in front of the main ground and another near the lane leading to Kailas crematorium. When contacted, deputy commissioner of police (Traffic) Vishwas Pandhare said, "Nearly 20 feet of the divider has been deliberately broken to create passage for any emergency evacuation. There is a possibility of large crowd, and in case of an emergency situation, there should be adequate open punctures for evacuation, which is why we have broken the divider."
Meanwhile, Pune police carried out a rehearsal at the ground on Monday. Police has made parking arrangements at a small ground near Kailas crematorium. The police also carried out regular checks at the ground using a dog squad.