Lads from smaller towns in the state scored better than Pune participants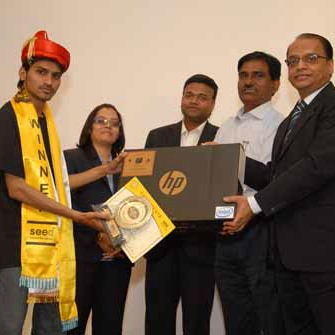 Pune: In a grilling rapid-fire round that that saw adrenaline soaring high, Amravati student Mujeeb Ul Haque from Ram Meghe College of Engineering, Badnera (Sant Gadge Baba Amravati University) outsmarted everyone to win the 'SEED Maha IT Idol 2014', beating 60,000 participants. Lads from smaller towns in the state scored better against the participants from Pune at IT Idol 2014 held at hotel Le Meridien in Pune on April, 15.
Dinesh Chandwani of SSBTS College of Engineering, Jalgaon (North Maharashtra University) stood second and KK Chormale from MIT College of Engineering, Aurangabad (Dr. Babasaheb Ambedkar Marathwada University) won the third prize.
The IT Idol competition is the flagship annual initiative of SEED Infotech that started 4 years ago to test students on their basic computer knowledge and C programming. Managing director and CEO of SEED Infotech, Narendra Barhate said, "It is organised across various regions of Maharashtra in association with the university of that region. This year all eight universities in Maharashtra supported the IT Idol competition."
This year's SEED IT IDOL was organised in association with University of Pune, Shivaji University, Dr Babasaheb Ambedkar Marathwada University, Sant Gadge Baba Amravati University, Tukdoji Maharaj Nagpur University, Swami Ramanand Teerth Marathwada University, University of Mumbai, Solapur University and North Maharashtra University for their respective regions. This year's event was also extended to Bangalore, Jaipur, Delhi and Madhya Pradesh.
Over 60,000 participants from more than 300 colleges participated in the first round, out of which over 6,000 students entered the second round. Ten finalists were chosen from 12 cities to participate in the regional rounds. All the 120 finalists were invited to participate in the Maha IT Idol at Pune, from which final three winners were declared.