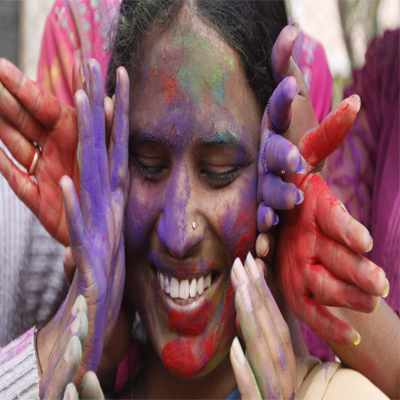 "We have to leave our houses early for work on the day of Rangapanchami. Our real job is to work on days such as festivals to ensure people feel safe," says a female constable at Dadar station. The railway police in Mumbai works extra during festivals like Holi. They have to come in for duty before the usual time and the entire force is deployed on such days.
According to Assistant Police Inspector at Dadar Police Station, DN Shinde, "We take a Mohalla committee meeting in slums such as Dharavi a few days before Holi to educate people about the consequences of committing offenses such as throwing water balloons at people in the train or on the station. If anyone is caught committing such a crime, a case is filed against that person and he is arrested. In case of a juvenile, the case is filed against the father and he is arrested."
The traffic police also takes precautionary measures on such days. If a person is found under the influence of alcohol, he's fined Rs1200 and booked for drinking and driving. Also, if there is a party happening in any of the hotels, the hotels have to inform the area police station. The hotels have a license that permits them to serve alcohol. If the hotels don't have a license they are booked under the Bombay Police Act.
When it comes to safety, Mumbaikars feel police arrangements and CCTV cameras can help and avoid attacks that happen in public places but there are some who think that is not enough.
"During a large-scale festival like Holi, it is impossible to expect the cops to protect everyone. During such times, the responsibility lies on each individual themselves," says Apoorva Nanjangud, a college student.