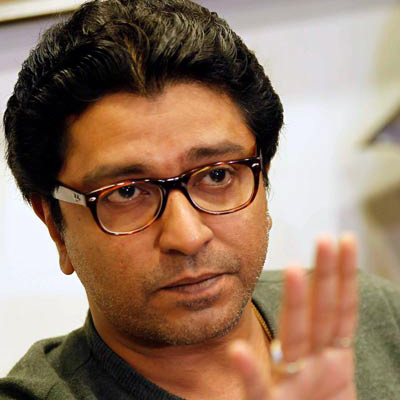 The state-wide agitation by the Raj Thackeray- led MNS to protest against lack of transparency in toll collection kickstarted in which activists in large numbers arrived at toll nakas on highways across the state beginning 9 am.
Thackeray said he would lead the non-violent day-long agitation at the Vashi toll plaza.
MNS chief Raj Thackeray's agitation against lack of transparency in toll collection may just be an attempt to cash in on the ire of an increasingly assertive middle class on the issue and to dominate the prevailing political discourse before the upcoming Lok Sabha polls.
Thackeray has pointed out that his agitation has led to 67 toll booths being shut down in the state.
However, critics are of the opinion that although the protests were escalated in 2012 nothing had come to a logical end. They have alleged that the agitation was launched at Congress-NCP's behest to fracture the anti-incumbency vote like in 2009, a charge vehemently denied by MNS leaders.
"This is an attempt to gain centre stage before the polls," said a senior BJP leader, adding that this could have been prompted by Narendra Modi's projection as the NDA's prime ministerial candidate and emergence of the Aam Aadmi Party (AAP) on the national stage. He claimed this was likely to hurt the MNS vote base in the general elections as these parties had an overlapping electoral catchment.
But, Twitter users reacted strongly against the political gimmick that wreaked havoc with basic amenities in the city. The roads were clogged across the city while trains were delayed. MNS cadres even resorted to puncturing vehicles in order to halt them.
Also, users helped each other out by exchanging traffic tips and live updates about situation across the city.
Continuous tweets with hash tags #MNS #MumbaiTraffic were used as people tweeted out their opinions and real-time updates:
Check out the tweets below:
MNS cadres forcing a bandh in parts of Bhandup, Mumbai, apparently protesting against arrest of Raj Thackeray.

— Suresh Nair (@snsuresh) February 12, 2014
Heavy police outside McDonalds near panvel outlet shut down #mns #bandh #mumbai

— vishal gondal (@vishalgondal) February 12, 2014
"@neetakolhatkar: On Mumbai-pune eway near amrutanjan bridge MNS wkers deflate truck tyres. Traffic Pune delayed, long queues" #wellplayed

— rusty (@anandraman) February 12, 2014
Lotsa cops at Goregaon East. Traffic appears to be normal. #Mumbai

— Lester Fernandes (@leztah) February 12, 2014
Mumbai: Raj Supporters jam Eastern Express Highway at Suman Nagar with their motorcycles. Traffic snarl up to Matunga pic.twitter.com/XohU8U9tHl

— Anurag Tripathi (@anuragtrip) February 12, 2014
Another example of cheap political publicity set by Raj Thackrey. http://t.co/wF7H5ylsas

— Virendra Chia (@VirendraChia) February 12, 2014

@mataonline definately no... Raj Thackeray is just creating buzz for upcoming elections.

— Jnyandeep Bhagat (@jnyandeepbhag) February 12, 2014
Anyone has any idea about the toll traffic on the expressway? Need to go back to Mumbai from Pune. Pls RT if you have no idea
— Ashutosh Tiwary (@aktiwary) February 12, 2014
Traffic likely to be affected due to MNS rasta roko agitation today at some junctions in the city - Mumbai Police
— QueenBee ♕ (@vaidehisachin) February 12, 2014
Anyone has any idea about the toll traffic on the expressway? Need to go back to Mumbai from Pune. Pls RT if you have no idea
— Ashutosh Tiwary (@aktiwary) February 12, 2014
Anyone has any idea about the toll traffic on the expressway? Need to go back to Mumbai from Pune. Pls RT if you have no idea

— Ashutosh Tiwary (@aktiwary) February 12, 2014
Shops opening up at dadar & around. Situation safe n sound everywhere. Stop spreading rumours please. @WeAreMumbai @TrafflineMUM

— Pratik Trivedi (@ptrivedi2186) February 12, 2014
Shops opening up at dadar & around. Situation safe n sound everywhere. Stop spreading rumours please. @WeAreMumbai @TrafflineMUM

— Pratik Trivedi (@ptrivedi2186) February 12, 2014
Shops opening up at dadar & around. Situation safe n sound everywhere. Stop spreading rumours please. @WeAreMumbai @TrafflineMUM

— Pratik Trivedi (@ptrivedi2186) February 12, 2014
Spurt in violence; 'bandh' has been enforced around Thane, Airoli, Bhandup, Kalyan. Vehicle movement has been hit. Be safe! @TrafflineMUM

— Nikhil Kulkarni (@VocabSahab) February 12, 2014
@TrafflineMUM trains from seawoods to belapur took almost 15 min. Even now did not reached belapur. Still btw seawoods and belapur. Any news
— Chandana Bhanu (@Agentchandana) February 12, 2014
Human procession on road from sion to BKC clogs up traffic bumper to bumper @trafflineMUM

— Meelögsin (@meelogsin) February 12, 2014
Dear @TrafflineMUM goons of MNS have flattened tyre of a truck at Sion hospital.We handed them over to the police who filed FIR promptly!

— Arun (@iamjhakaas) February 12, 2014
@TrafflineMUM trucks, bus, tanker tyres deflated by MNS goons at Dahisar WEH s/b to block road. Cleared now pic.twitter.com/t9Hkhq2ssA

— Kanchan Kumar (@kanchankumar) February 12, 2014
Rather than doing #RastaRoko around mah. MNS should have done something productive which would please people and crab some votes too !!

— Gaurang Khanvilkar (@GaurangAf7) February 12, 2014