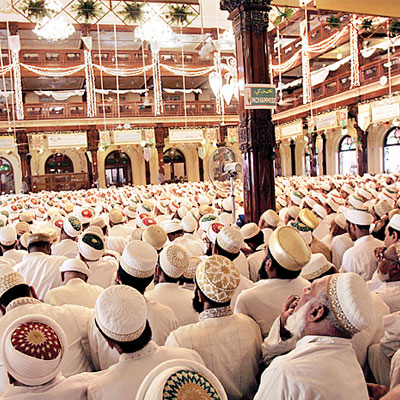 The Progressive Bohras, a group that is being boycotted by a vast majority of the million-strong Dawoodi Bohra community, are likely to file a suit in the Bombay high court against what they call "oppressive traditions/customs that have crept into the community lately."
This follows a succession suit filed by the uncle of the present Syedna.
"We actually wanted to intervene in the present matter. But our lawyer advised us against it saying the present case is with respect to succession. Our plea will be with respect to some oppressive practices, which were never followed by the community, but have lately become prevalent," said Saifuddin Insaaf, general secretary, Central Board of Dawoodi Bohras (Progressive Bohras).
The Progressive Bohras are already fighting a case against the Dawoodi Bohra leadership in the Supreme Court. They had filed a review petition in 1996 and are still awaiting ruling. That is with respect to them being socially boycotted (or ex-communicated) by the community. The community began the boycott after the Progressive Bohras challenged some of the policies of the then Syedna.
"There are certain practices in the community like not giving entry into mosques if one does not have an e-Jamaat card or does not sport a beard. Practices like keeping a beard, imposing taxes like sabeel and wajefaat were never present in the community, and have been added of late. These are against the tenets of the religion and should not be imposed," added Insaaf. He said that according to their lawyer, they would have to prove that these practices now existed even though they are not supposed to.