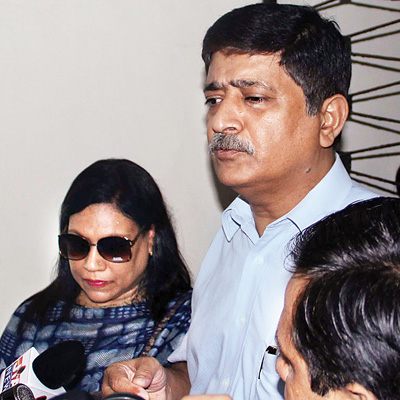 Immediately after the sessions court sentenced Sajjad Pathan, the watchman at Himalayan Heights housing society, to life imprisonment for murdering the 25-year-old advocate Pallavi Purkayastha, who stayed in that society, the family members of the victim expressed their displeasure at the verdict. They said the judgment would not act as a deterrent and that people staying in housing societies would not feel safe.
The victim's father, Atanu Purkayastha, an IAS officer who was the joint secretary in the agriculture ministry when the incident took place, speaking to the media, said that with such a judgment there was the possibility of similar incidents taking place again. He also said he would definitely approach the Bombay high court challenging the sessions court order.
Atanu also said it was a sham if they establish that the system cannot give death penalty to the convict; if not the system then who will take a decision on it, he asked.
He also compared the present case to the Shakti Mill's gang rape case, where the court had awarded the accused death penalty. "Look at the inconsistency in the legal system. In the Shakti Mills case, the accused had raped the girl and they were awarded capital punishment, but in Pallavi's murder case, the accused has been awarded life imprisonment. This is a mockery of law."
"Two responsible citizens who were tax payers were killed by the convict, and now he will be kept in jail and taken care of by the tax paid by the two," said Atanu.
Similar was the reaction of Pallavi's mother, Sumita Purkayastha, director general with ministry of telecom. "If India is a free country, it does not mean anyone has the right to do anything. The savior in this case became a predator and killed my daughter. We will definitely move the high court," said Sumita.
However, Pathan said he was innocent and that he had been convicted and sentenced for something he had not done.