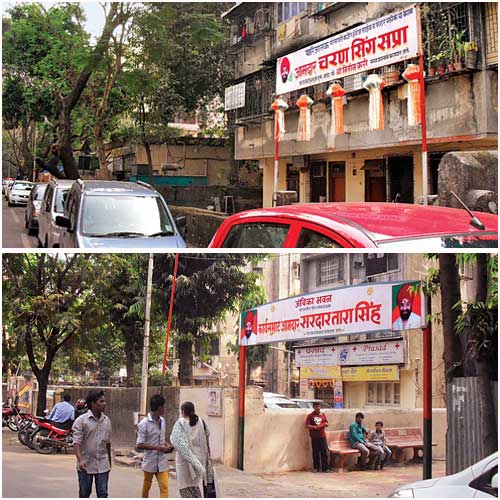 Mulund has the dubious distinction of having the maximum number of pucca iron hoardings in front of almost all housing societies, carrying the names and painted portraits of local MLA Tara Singh of the BJP and Congress MLC Charan Singh Sapra, who is a local resident. This practice was started by Singh and later it was adopted by Sapra.
As a result, the whole suburb wears an ugly look with faces of Singh and Sapra staring down at you from hoardings, which look like arches at the entrances of buildings.
To protest against this, a local resident and trade union leader, Harish Shetty, has initiated a public interest litigation (PIL) in the Bombay High Court. Shetty has alleged that the legislator's fund was being misused for self-promotion by the two politicians. He has demanded that the monies be recovered from the duo. He has noted that the lawmakers were committing contempt of the high court which had banned such hoardings.
"Not only this, Singh has also spent crores of rupees in laying paver blocks in the compounds of housing societies which is clearly illegal. This money should also be recovered from him and action should be taken against the officials who acquiesced in the illegal expenditure," Shetty told dna on Tuesday.
However, Singh claimed that the hoardings were put up by grateful members of housing societies whose work he has done. "I have not used the MLA's fund for this purpose. Also, these hoardings are not on public land, but within the compounds of the housing societies. These hoardings are the people's way of appreciating my work," he added. As regard the spending of MLA's fund on laying paver blocks inside housing society compounds, he said this was being done since senior citizens found it difficult to walk on uneven surfaces. "If the government objects to it, then I will stop the works," he added.
Sapra also said that his legislator's fund was not being used for erecting these hoardings. "These are either erected by the people or by local mitra mandals. There is nothing illegal about them," he maintained. As regards the spending of MLA's funds in improving building compounds, Sapra said: "Singh is doing this to get middle-class votes. He has no base in the slums and hence is trying to appease the middle-class by repairing their building compounds," he added.