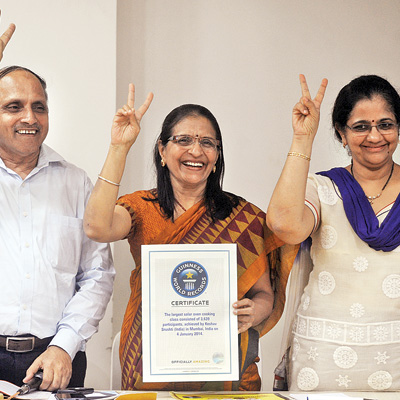 A Bhayander based NGO, in a bid to spread awareness on solar cooking, will be roping in students from 500 schools across Mumbai to cook solar-powered dishes. NGO Keshav Srushti has been accredited by the Guinness Book of World Records for having conducted the largest solar oven cooking class in January 2014 with 3639 participants from 62 schools.
Invigorated by the success, the NGO has announced an annual Maha Suryakumbh on January 15, 2015, aiming to reach 25,000 schools students.
"In Maha Suryakumbh we will give children technical support to carry out the solar cooking exercise in their schools. Therefore, on one day, thousands of students across the city will assemble solar cookers and cook to gain first-hand experience. Students from Classes 7th to 9th will be called to participate as it is the right age to understand the concept," said Satish Sinnarkar, acting chairman, Keshav Srushti.
Their efforts are not limited to Mumbai alone — they have already organised a successful session at Jalna and intend to have sessions at Nanded and Aurangabad.
"We have included schools in tribal areas and schools for differently-abled children in our Suryakumbh and waived the fee charged for the equipment," said Dr Asmita Hegde, who is in-charge of the Suryakumbh.
The solar cooker is a rudimentary piece of plastic foam that can reach a maximum temperature of 120ºC and can save up to 10,000 units of electricity on a daily basis and is functional for a year.
However, Vivek Kabra, Suryakumbh technical advisor and former IIT-ian believes that, "The joy on the child's face (once the food is cooked) is of more importance than creating records. Our aim is to spread the experience to the whole population of our country and enable them to innovate in the field and create the market for these innovations"