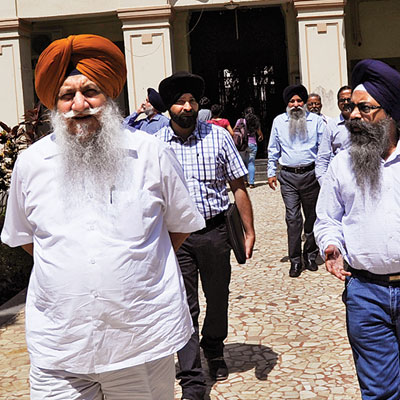 The Shiromani Gurudwara Prabandhak Committee (SGPC), which is probing the bribery case involving Matunga's Khalsa college principal Ajit Singh Theti, may ask the college management to install more CCTV cameras once its report on the case is ready.
"We don't know what exactly happened, but the money was found in the assistant's cabin, not the principal's. I don't know how many CCTV cameras are there but, if required, we may ask the management to install more," said GS Walia, committee coordinator.
A college official said, "We will abide by the orders of the SGPC panel... Till now, we have not received any reports and suggestions from them (the members)."
The SGPC met around 20 current and former students of the college on Monday from 10.30am to 4pm. It also met a few parents and staff members of the college to understand the extent of corruption in the college, besides probing Theti's involvement in the alleged malpractices.
The committee is a governing body which supervises 29 colleges including Khalsa. Its five members are Avtar Singh, Balwinder Singh Joursingha, Satinder Singh, director of education Dr Dharmender Singh Ubha, and vice chancellor of Sri Guru Granth Sahib World University, Fategarh, Dr GS Walia.
Walia said, "The unfortunate incident has hurt the college's reputation." He, however, refused to comment if this will hamper the upcoming junior college admission process. "Our final report is not ready and the inquiry is still going on," he added.
"We will also hear out the principal and take his statement... He will be given a fair chance to tell his side of the story. Appropriate action will be taken by the committee after the final report."
The committee said it is open to meet the complainant who approached ACB.