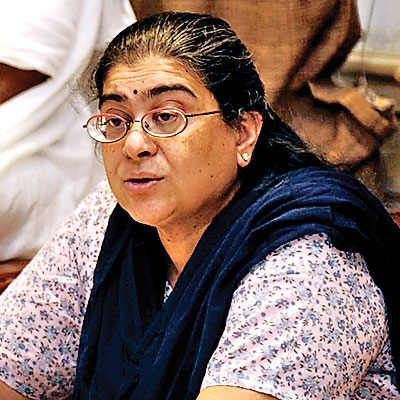 "The chief minister happens to my husband. We are all individuals and women in our own rights."
That was Satvasheela Chavan speaking to a 200-odd people at the national consultation on portrayal of women in the media.
The event was organised by the National Commission of Women (NCW) in collaboration with the Maharashtra State Commission for Women (MSCW) and Doordarshan, Mumbai, on Monday.
"By now, I have got used to being referred as the chief minister's wife. But the fact is I didn't marry a chief minister. I married a plain engineer," she told dna after her speech. Prithviraj Chavan is a graduate in mechanical engineering from BITS, Pilani.
"You can either be the oppressed woman or one who rubs shoulder with your husband on the battlefields and die with him. You have to decide what kind of a woman you want to be," said Chavan.
NCW chairperson Mamta Sharma, member Nirmala Samant Prabhavalkar and MSCW chairperson Susieben Shah also spoke. There were also some panel discussions on media and women.
The discussions focused on the 'negative' impact of media, primarily on the youth.
Prabhavalkar said, "We have been inundated with complaints of heinous crimes against women and the media has played in a role in that."
"Barring a few exceptions such as Aandhi and Astitva, most Bollywood films have painted a one-dimensional caricature of women. Their essential role has still remained the same, she is the merely the side-kick," Susieben Shah said.
Mukesh Sharma, additional DG, west zone, Doordarshan, spoke on lack of adequate media laws to keep a tab on media content.
BOX:
Prithviraj Chavan, who attended the meeting for a brief period told the reporters that measures like 50 per cent reservation for women in local bodies went a long way in women's empowerment. "However, there is still a long way to go," he said.