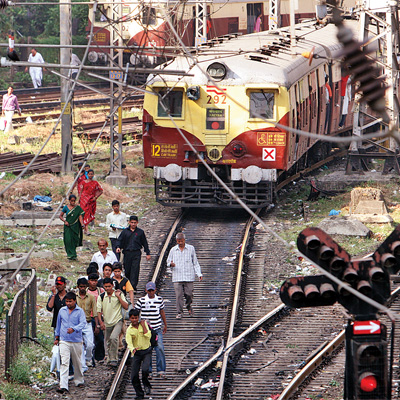 The small patch of land on the northern tip of platforms No. 1 and 2 at CST station is turning out to be one of the most dangerous spots on the suburban railway system.
Thanks to the foot-overbridge on the northern tip of the station not having a landing on the platform between track 1 and 2—both Harbour Line—people have been crossing the tracks here to get from one platform to the other.
And in the process, as information from a Right to Information plea by Chetan Kothari shows, people have been getting injured/killed in large numbers. In 2011, five people died and 12 were injured while crossing the tracks here; the next year, 4 were killed and 20 injured, and in 2013, seven died and 10 were injured.
"Line 1 & 2 are for Harbour Line trains. The FOB is built in such a way that to get to the train on line no. 2, one has to get onto it from the western side of line 1, and then climb down the stairs that goes to lines 2 & 3. For most people, that's a lot of work and also time-consuming," said a railway official.
Another reason for the worrying statistics is, people trying to get off and board moving trains. "One mistake at the edge of this platform, and it's death or grievous injury," said the official.
The short-cut is then to jump onto the tracks from the edge of the platform on the western side of line 1 to get onto another train. "The fact that both these lines cater to Harbour Line trains could also be a reason.
Frequently, trains on Harbour Line are delayed, and because of this people do not want to miss a train under any circumstances. So they take short-cuts and sometimes end up getting killed or injured," said the official.