It'll also look into charges that Rajawadi didn't keep severed hands properly.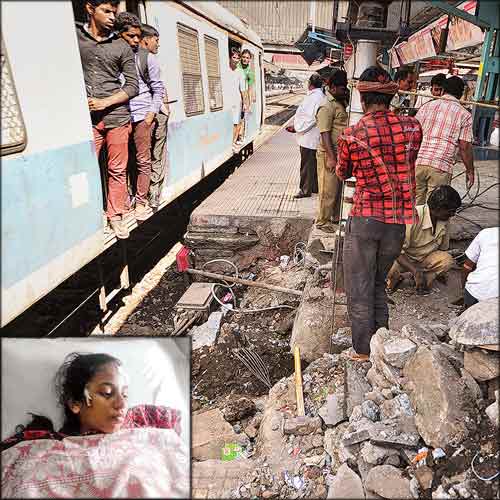 The Brihanmumbai Municipal Corporation has launched a probe into the alleged delay in shifting train accident victim Monica More from the Rajawadi Hospital to Parel-based KEM Hospital on January 11. The crucial time loss cost the 16-year-old her arms.
If the facilities at Ghatkopar station, where Monica's arms got severed after a fall and the SNDT student was taken to Rajawadi in an auto by two commuters instead of an ambulance, were very poor, there was shocking neglect at Rajawadi hospital, according to Monica's parents.
There are 16 civic-run peripheral hospitals, including Rajawadi, in Mumbai. Often these healthcare units are found ill-equipped to handle emergency cases. Apart from fixing responsibility, officials said the inquiry will help them improve facilities at these places.
Recounting their ordeal, Monica's father Ashok on-duty doctors and para-medical staff at Rajawadi got busy in stabilising his daughter, but left the dismembered body parts on a table unattended. He said, "After about half an hour, the hospital staff asked us to arrange for ice to preserve the detached limbs."
Ashok and his relatives ran helter-skelter to look for ice and arranged to take Monica to KEM.
However, it was too late. "We tried to re-attach the arms, but they were damaged. There was definitely a delay in giving her the tertiary care," said a KEM doctor, who attended Monica.
A family friend said while Monic was brought to Rajawadi at 1.45, they reached KEM only around 4.30 pm.
Confirming the development, Dr Seema Malik, chief medical superintendent of BMC's peripheral hospitals said they aim to plug loopholes in the system. "We have initiated an inquiry into the incident. We will take expert opinion on how to better ourselves in handling such cases in future."
According to Dr Ashok Gupta, a top plastic surgeon at Bombay hospital, there set guidelines on how to handle limb detachment cases.
The doctor who has done several replntation surgeries said all railway stations should be alerted on how to deal with incidents like this.
Dr Gupta said, "Such accident cases should be taken to nearby tertiary care hospital who are equipped to handle such cases."
How to preserve severed body parts
According to plastic surgeon Dr Ashok Gupta, there are set guidelines on how to handle limb detachment cases. The detached body part should be cleaned (not scrubbed) and wrapped in a clean and dry cloth. It should then be wrapped in plastic and kept in an ice box immediately. Within six hours, the person should be taken up for the surgery.