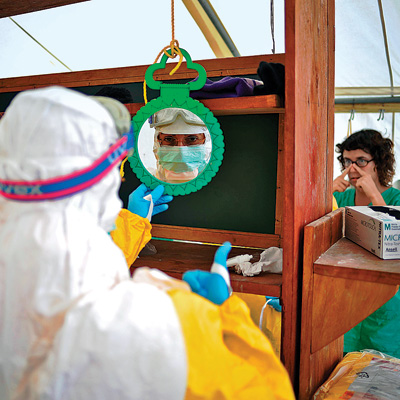 The Brihanmumbai Municipal Corporation (BMC) has decided to place those who have travelled to Ebola-hit countries under a 21-day observation.
However, the civic body has a problem here.
Of the 170 people who landed in Mumbai from the Ebola-affected region, 60-70 are in Mumbai. Of this, the BMC could contact only around 20 as the others had not provided proper contact details to airport officials. Those coming from West Africa are screened at the airport.
Dr Mangala Gomare, head of the epidemiology cell in the BMC, said, "We have started the screening process a week back with the help of airport officials. We got a list of 60-70 people who have come to Mumbai from Ebola-affected areas in the last three days. However, we could contact only 20 people. Others were not reachable because of wrong contact numbers and addresses."
Passengers from Ebola-hit areas are required to fill contact details. This list is then forwarded to the state health ministry and the BMC. The BMC has now written to the state health authorities to ensure that the contact details are correct.
Infected passengers will be quarantined. Suspected cases will be kept under observation for 21 days. "There's nothing to panic. We're just being cautious. We will have telephonic interviews at regular intervals with these passengers to check whether they have developed Ebola symptoms later," said Dr Gomare.
Dr Gomare, along with Dr Om Shrivastava, infectious disease expert, head of medicine, preventive medicine and microbiology departments of KEM hospital, sensitised more than 100 doctors in the hospital on Saturday on Ebola.
Dr Gomare said the state health department had already procured around 50 protective gears for health care professionals. Personal protective equipment (PPE) have been distributed. The PPE includes space suits, goggles, caps and gloves which cover the entire body. "We are expecting more protective gears soon," said Dr Gomare.
She said suspected patients will be quarantined at the Jogeshwari trauma care hospital. "Samples will be sent to the National Institute of Virology, Pune. If the infection is confirmed, the patient will be transferred to Kasturba hospital, the civic hospital for infectious disease. There are 19 beds in JJ hospital to handle Ebola patients," added Dr Gomare.
BMC has activated an Ebola helpline: 022-24114000. The Union health ministry has opened a 24-hour Emergency Operation Centre from August 9. The helpline numbers are: 011-23061469, 23063205, 23061302.