Following Goa CM's timely ban on Ram Sena goon Pramod Muthalik from his state, Malavika Sangghvi pens him a congratulatory letter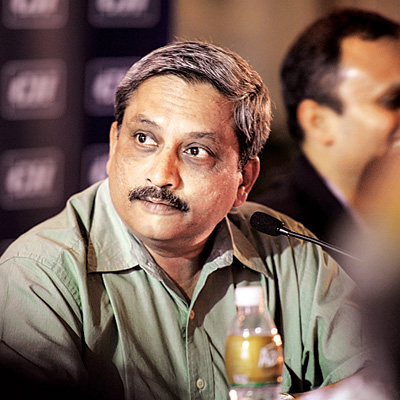 Dear Mr Parrikar,
Perhaps I am overreacting, but your decision to ban Shri Ram Sena chief Pramod Muthalik from entering Goa has filled me with immense joy and optimism.
And this is because Mr Parrikar, of late I along with many others had begun to experience anxiety over the direction in which things were going after the Lok Sabha elections and the BJP's massive victory.
Hailing from a secular progressive background, I was perturbed over the recent communal clashes across the country and the utterances of RSS chief Mohan Bhagwat about India being a Hindu State; the breakdown of talks with Pakistan had not helped matters either.
Could it be, I thought to myself, that I have been foolish and naïve in placing my trust in our PM's famous words that 'Ache Din Aayenge'?
Ought I to have paid more attention to the warning words of my leftist and more strident friends about the BJP's 'hidden agenda'?
Had I embarrassed myself and my so-called political smarts by countering the alarmists amongst my midst with the plea to pay no heed to the right wing loony fringe and to believe that our PM stood for inclusive development for all?
"After all our PM knows that no progress will be possible if the country is torn apart with communal violence" I had said over and over again in the past few weeks. "He wants development and progress. Why would he fan communal tensions?"
Would I live to regret my words?
Believe me Mr Parrikar, there are enough people ready to jump down the throats of those of us who have put our faith in you and your leaders in Delhi, and say 'We told you so!'
Each time there is a statement against minorites, each time a communal riot boils over and innocent people are killed, each time a hardcore fundamentalist leader says something to threaten the secular fabric of this country, I see the mounting fear and hear the alarm in their voices grow louder.
In the light of this, your banning of the extremely odious Mr Muthalik has come as a ray of sunshine in a sky that often seems to be darkening with gathering clouds.
The presence of Mr Muthalik in Goa, the man whose Ram Sena goons beat up unarmed young women at a Mangalore pub in 2009 would have been akin to inviting a herd of raging bulls to a China shop.
Goa, with its legendary penchant for siesta and fiesta, where every street boasts of its own pub and church, and where scores of young people from India and abroad gather each year to eat, drink, party and skinny dip, would have convulsed under his ominous shadow.
But perhaps I am making too much of your timely step in banning Muthalik, after all following the uncouth actions during the Mangalore pub incident, the BJP state government had banned him from entering Mangalore, following which he had campaigned against the party in the 2009 Lok Sabha elections.
And neither has Muthalik's relationship with the militant Hindu organisation, the Bajrang Dal, been event free. The hardcore Hindutva leader has been banned by the Bajrang Dal too in the past.
(To qualify for banning by even the Bajrang Dal must require some act of such extraordinary sociopathic behavior that the mind boggles.)
But let us put Muthalik and his goons in the dustbins of history where they rightly belong. Your act has not only given Goa a deserved ray of sunshine, but has served as a beacon of hope across the country. For those looking for signs, your act will serve as a much-needed reassurance that the alarm button needn't be pressed just yet.
Keep up the good work Mr Parrikar, and now that you're at it, perhaps a gentle word in the ear of one of your partymen about the rights of women to wear what they want when they go to the beach will be as appreciated.
On this Sunday, there are many who will be toasting you with a glass of feni or something less incendiary but as joyous nevertheless for showing Muthalik the door!
Cheers!
Yours sincerely, etc
Malavika Sangghvi can be contacted at malavikasmumbai@gmail.com

The writer believes in the art of letter writing