Eva Danielle, a Miami-based designer brand recently opened shop in Pune.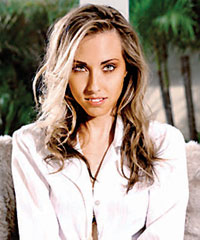 Bringing the eight-year-old, family-owned fashion brand, Eva Danielle to Indian consumers, head designer and president Eva Danielle Wittels, and brother and CEO Harrison L Wittels were recently in town. Eva whose designs are inspired by cultures across the globe, has dressed the likes of Paris Hilton and Britney Spears. She recently opened their first Indian store in Pune.
Talking about expanding, she says, "I'm not that aware of Indian fashion but am quite familiar with the jewellery and handbags. We did check what's available here and what's not before deciding to branch out. I think our materials, that are sourced from Italy, Paris, England and Belgium are what makes our designs stand out, as well as the bold colours."
Having been sported by celebs across the globe does help add to the creditability of the brand that fuses couture with casual wear. "Powerful, independent women are drawn to our creations. They're also trendsetters — since Eva doesn't follow any colour or style trends," explains Harrison.
They also donate a percentage of the proceeds from every sale to the family founded charity, Helping Homeless Animals Inc. "We do have a lot of charity fashion shows. In fact, all of our pieces are named after our animals. We're also particular about using environmentally conscious materials — no fur or leather — in our garments," they say. The fashion house also plans to do some charity work in India, mostly for women's empowerment.