30 people dead as hospitals stop admitting patients and emergency services suspended.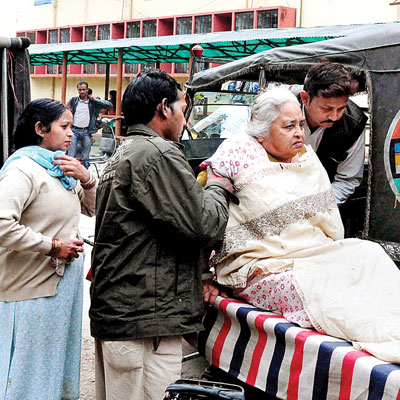 At least 30 patients have died across Uttar Pradesh as a result of an ongoing doctors' stir, which intensified with 200 more doctors sending in their resignations on the stir's fourth day on Tuesday. No new patients are being admitted in hospitals throughout the state with even private hospitals shutting their doors to patients.
Doctors first went on a stir in Kanpur on Saturday following a Friday face-off between Kanpur district officials and the students of renowned Ganesh Shankar Vidyarthi Medical (GSVM) college. The students were brutally beaten up by Kanpur Samajwadi Party MLA Irfan Solanki and his henchmen after a student's bike had a minor accident with the MLA's SUV. Kanpur SSP, Yashaswi Yadav, said to be chief minister Akhilesh Yadav's blue-eyed boy, led a virtual attack against the students who were protesting Friday's incident. Twenty-four students were put behind bars even as MLA Solanki roamed free. Nearly 300 medical faculty of GSVM College have resigned in protest.
"I begged and pleaded with them (striking doctors) but they didn't even take a look at my father," said Manish after doctors at King George Medical University hospital refused to take in his critically-ill father; the 62-year-old Harigovind from Faizabad died outside the trauma centre.
"The doctors should return to work as their first duty is towards the patients. You can't bring back life once a patient dies," Akhilesh told reporters on Tuesday and added that an inquiry had been instituted. "We have the CCTV footage of the incident. Senior officials are looking into it."
Indian Medical Association's Kanpur unit president Dr Aarti Lalchandani claimed that the CCTV footage (captured on cameras installed at a nearby petrol pump) given to the officials in Lucknow is a "doctored" one.
The IMA and the UP Provincial Medical Service (PMS) doctors declared their support for the agitating students even as 200 junior doctors of the Agra Medical College tendered their resignation to the state government. The number of striking doctors throughout the state could well be more than 10,000.
As the stir spread, five people lost their lives without being admitted to hospitals in Allahabad on Tuesday. As many as 11 people died have died in Lucknow alone while three reportedly breathed their last at the BHU Medical Institute in Varanasi on Monday as doctors refused to run even emergency and trauma services. Things have come to such a pass mainly due to the inertia on the part of the Akhilesh Yadav-government and the intransient attitude of the Kanpur district administration.
"Even the students studying in their hostel rooms were dragged out and beaten up," said IMA's Dr Lalchandani. "We will not withdraw the strike until the SSP is removed and all cases against the students are withdrawn. We will fight for justice."
The 24 junior doctors, who were granted bail on Monday night, refused to come out of the jail on Tuesday until their three demands were met.