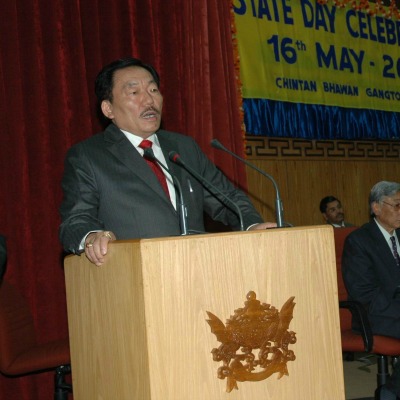 Sikkim Chief Minister Pawan Chamling is all set to become the country's longest serving chief minister after he led the Sikkim Democratic Front (SDF) party to a record mandate for the fifth time in a row in the assembly elections. The ruling party, Sikkim Democratic Front, won the assembly election by 2/3 majority in Sikkim assembly, results of which was declared on Friday.
Sikkim created a political history after it voted overwhelmingly in favour of ruling SDF for consecutive fifth term in assembly elections and electing Pawan Chamling as the longest running head of government of any Indian state on the promise of peace, development and sustainability and the success of various development works during its 20 years of power. Sikkim Chief Minister Pawan Chamling has been the Chief Minister of the state since December 12, 1994 and has completed 20 years at the post.
He is set to become the only leader of the country to celebrate silver jubilee as the chief minister breaking the record of late Communist leader Jyoti Basu who is considered longest serving chief minister by holding the post in West Bengal for more than 23 years. In the 2014 assembly polls, the ruling SDF has won 22 seats out of total 32 seats on the promise of peace, security and development. The party got majority 55% vote share in multi corned contest in the state.
Pawan Chamling won the elections from both Rangang-yangang and Namchi-singhithang assembly constituencies by huge margins. The Assembly elections, which were held alongside the Lok Sabha polls, seem to matter more to the people in Sikkim than others. The SDF also won the lone Lok Sabha seat when its candidate PD Rai defeated main rival Tek Nath Dhakal with approximately 42000 votes.