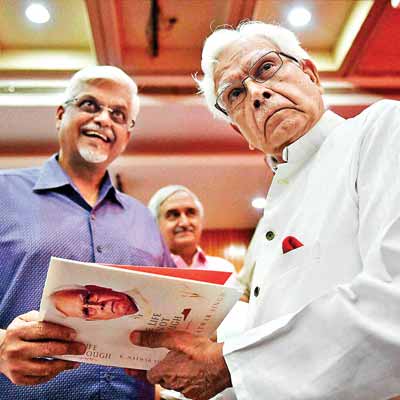 Controversy is a bestseller.
Barely a week since its launch on August 7, K Natwar Singh's 'One Life Is Not Enough' has sold nearly 65,000 copies, while Sanjaya Baru's 'The Accidental Prime Minister', which too generated a lot of heat when it was published in early April, has sold 75,000 copies.
These are unprecedented numbers in the Indian book trade where titles, especially non-fiction, have no more than a 3,000 to 5,000-copy first print run, which takes around 3-6 months to sell out.
Both books generated a lot of controversy; Singh's for claiming that Sonia Gandhi declined the prime ministership in 2004 at Rahul Gandhi's insistence and so, was no "sacrifice"; Baru's created a sensation for revealing that government files were actually taken to the Congress president.
Given the public mood against the Congress and the UPA government, the books, even though what they revealed weren't major exposes, were lapped up by readers. But the impact of their controversial contents were further amplified by a carefully planned media strategy. Singh's book, for instance, was unveiled as a major, two-part television interview with a leading journalist that carefully took viewers through the most contentious bits.
In Midlands, a leading bookstore in the capital, hardback copies of Singh's book, priced at Rs500, have been flying off the shelves at the rate of 10-15 a day, while Baru's book still manages to sell around five copies daily. Also, pirated copies, priced at Rs250, are sold at traffic junctions in Delhi.
"It is a combination of very good writing, never-before-told stories and an election this year that sparked interest in these books. And both are aimed at the Congress," said Ananth Padmanabhan, vice president, sales, at Penguin Books. "Baru's book, especially, is written in an engaging conversational style and is very readable."
The clincher, of course, was the books'"perfect timing", said Poulomi Chatterjee managing editor at Hachette India, which published Tavleen Singh's 'Durbar', which created a similar media storm when it came out in 2012 for its revelations about the Gandhi family and sold a respectable 15,000 copies in the first six months. Controversy helped Jaswant Singh's memoirs, in which he praised Jinnah, do well, too, and it went on to sell 50,000 copies.
But this election year has seen a significant number of political books — Ram Jethmalani's Maverick Unchanged, Unrepentant, Shivraj Patil's Odyssey Of my Life, and several books on Narendra Modi. The next political hot potato could be Vinod Rai's memoirs, which Rupa will launch mid-September. Coming up next month is also Daman Singh's Strictly Personal on her parents Manmohan Singh and Gursharan Kaur — but that has little contentious bits in it. Nevertheless, its publisher HarperCollins India has budgeted an initial print run that's nearly three-times the usual, which has also helped bring down the price of the 450-page book with 16 pages of photographs to an affordable Rs699.