Shiksha Bachao Andolan Samiti raises objections to words like 'worker' and 'poshak'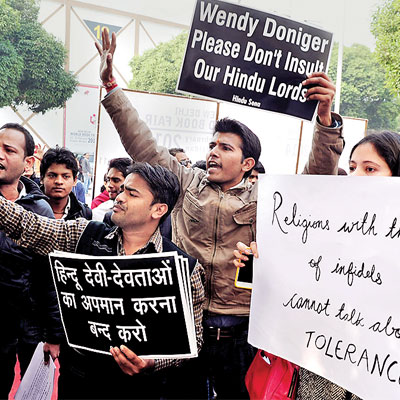 After getting the country's biggest publishers to withdraw books with "objectionable content", the Shiksha Bachao Andolan Samiti (SBAS) has now set its sights on school textbooks, especially those under state boards.
"We have directed our state units to look into state board books. In Punjab, we have formed a six-member committee who will come up with objectionable portions within 15 days after which we will approach the Punjab high court," said Dinanath Batra, national convenor, SBAS.
Relenting under pressure from SBAS, the academic council of Delhi University in 2009 discontinued AK Ramanujan's essay, Three Hundred Ramayanas, from its curriculum. Last year, it forced Penguin to withdraw Wendi Doniger's The Hindus: An Alternative History while earlier this year, it was the turn of On Hinduism published by Aleph. Orient Blackswan too has decided to review all its publications after SBAS issued a notice to the publisher earlier this week in connection with offensive passages in Shekhar Bandopadhyay's Plassey to Partition: A History of Modern India.
Batra also plans to step up agitation against "objectionable" passages in NCERT textbooks of Hindi for classes I-XII. "They contain abuses. They also have Persian couplets, English and Urdu words," he told dna. The SBAS has prepared a pamphlet mentioning some of the words it finds objectionable. While words like chamar which have references to caste are understandable, mentioning common Urdu words like 'poshak', 'imaan', ilaaka' and English words like 'vice-chancellor' and 'worker' is bizarre.
The pamphlet pointed out to a passage from a class III textbook about a boy named Sakku who was called Kakku, as well as a related exercise asking students to list their nicknames and names that people called them in jest. "Writing and calling such names will make children tease and abuse each other. The mood of the class will be spoilt," the pamphlet said.
The objections may seem piffling, but SBAS won a major victory in 2008 when the Delhi high court upheld its objections to 75 passages in history textbooks and ordered NCERT to remove them.
Batra and other SBAS members on Tuesday met HRD minister Smriti Irani and submitted a memorandum to her. They want mandatory social service classes for class X-XII students and a lesson on India's contribution to world civilisation in various spheres among other things.
Formed in 2004, the SBAS has emerged as the most vocal of the Hindutva brigade's moral vigilantes. Over the years, it has forced several public and private bodies to give in to its demands -- through legal or extra-legal means.