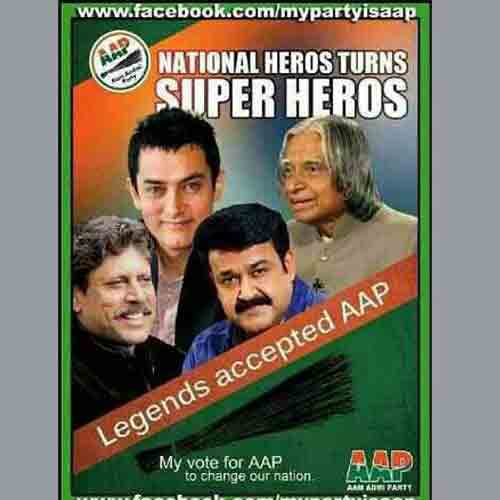 Though Aamir Khan took corrective measures against the Aam Aadmi Party's poster that leveraged on his stardom to promote the party, the Election Commission has put on hold the actor's proposed association with it as its national icon.
The Election Commission claims some pending issues that have halted the association before the Lok Sabha polls kick-start.
This development comes even though Aamir has written to the commission disassociating himself from a campaign being run by AAP activists projecting him as a supporter of the party, and clarified that he was not endorsing any particular party for the upcoming elections.
The actor's spokesperson said in a statement: "Aamir Khan from day one has made it clear that he will not be endorsing any particular political party. He is not supporting or campaigning for any political party."
A few days ago, the Election Commission had announced that Aamir Khan would be the 'new face of the Election Commission of India', thereby creating awareness among the citizens before the Lok Sabha elections. Read: Aamir Khan to be part of Election Commission's voter awareness campaign
Apparently, it was brought to Aamir's notice that a social campaign doing the rounds that he was supporting the AAP. Some candidates of the AAP allegedly took to Twitter and used Aamir's image in one of their campaign posters, claiming the 49-year-old Dhoom 3 star was supporting their party.
In view of this, Aamir has written to the EC clarifying that he is not endorsing any particular political party.
with inputs from agencies.