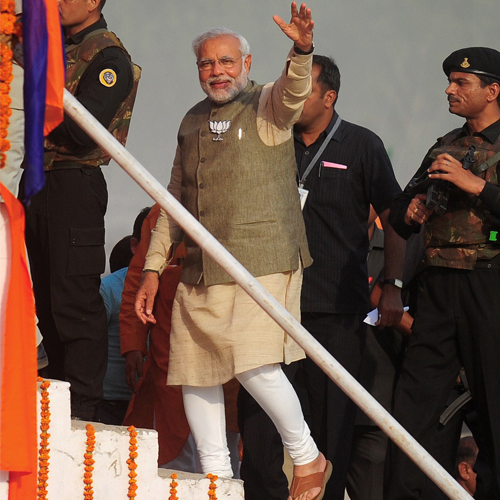 Maintaining his signature style this elections season, BJP's poster boy and prime ministerial candidate Narendra Modi concluded his final campaign for the ongoing Lok Sabha polls with a valedictory (of sorts) blog post.
8 months, 5800+ rallies, Charchas, programmes, 3 lakh+ KMs…an extensive, innovative & satisfying journey. My blog http://t.co/6MLdibQpNB

— Narendra Modi (@narendramodi) May 10, 2014
Following his final rally in Uttar Pradesh, last evening, Modi took stock of the last eight months of campaigning, since his nomination as BJP prime ministerial hopeful. "Friends in the Party told me that I have addressed rallies and programmes in almost 5800 locations, covering a distance of over 3 lakh kilometers," he informed. "When I look back at the entire campaign, three words come to my mind – extensive, innovative and satisfying," he writes.
And why not? As the battle draws to an end, Modi, who is regarded as one of the front runners for the prime minister's position, has so far recorded 440 rallies since September, 2013. In his blog post, Modi lauds his party workers, for the success of his campaigns, "Nothing made me more glad than seeing the enthusiasm of our Karyakartas! They have worked tirelessly throughout the campaign. Seeing a rally on TV and social media is one experience but working on the ground is something out of the world!"
But since the stakes are so very high, all parties and their candidates have been on their best offensive, over the last few months. Exhaustive rallying and campaigning, accompanied by generous amounts of political drama, trademarks of an Indian elections, kept the nation's interests peaked through the crucial polling days.
The high-pressured electioneering was also conducted online, through relentless social media campaigning of every kind. Modi exalts BJP's online campaigns, and all those who worked on day and night across social media platforms (perhaps, even helped compose this very blogpost). "It was amazing how all forms of social media were innovatively used throughout the campaign. This includes the ever popular WhatsApp, a lot of friends showed me innovative WhatsApp messages, campaign slogans and infograhpics that were hugely popular," Modi writes.
He also fondly recalls his election day selfie, and his media talk later, which very nearly got him in to trouble with the Election Commission, and earned the ire of the opposition.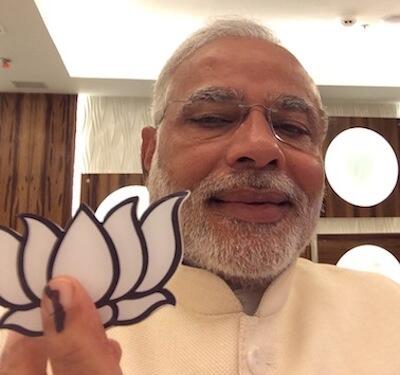 He also doesn't fail to point out the campaign innovations used by the BJP to get their face out there, a fact that even caught the attention of media worldwide.
WATCH: John Oliver's take on Indian Lok Sabha elections, Rahul Gandhi and Narendra Modi
And then there were those much talked about 3D rallies, "Innovation was seen in the Bharat Vijay 3D rallies. In one month I addressed 12 rounds of 3D rallies covering 1350 locations," Modi writes.
He even notes the success of the 'Chai Pe Charha' campaigns. "In a polity where political campaigns were more about one-way communication, our Chai Pe Charcha was an innovative break from the past."
Towards the end, Modi remembers the victims of the Patna serial blast that occurred at his rally in the city last October. "The events of Patna will remain etched in my memory- there were live bombs on one side but the resolve of the people prevailed. Nobody left the venue of the rally. I had a clear message that day that I repeated often during the campaign—we can decide whether we want to fight each other or we want to unite to fight poverty? The former will lead us nowhere while the latter will take our nation to greater heights."
In conclusion, he puts out a final appeal to the voters in the last phase, of what could turn in to a game changing battle for the seat of Varanasi.
Read full post, here.